Despite being surprisingly compact for a city, Wellington, New Zealand's capital is bursting with quirky cafes and design-led hotels. Nowhere epitomizes this more than the Naumi Studio Hotel in Wellington. 
The hotel located in the former People's Palace on Cuba Street opened back in October 2020. Created by interior design firm Material Creative, the Naumi Studio Hotel is a maximalist's dream. 
From velvet arches to statement wallpapered feature walls, the hotel is filled with stylish home decor ideas. This year the hotel has opened a new restaurant, the Lola Rouge, which is just as bold and brash in its design choices as the rest of the hotel.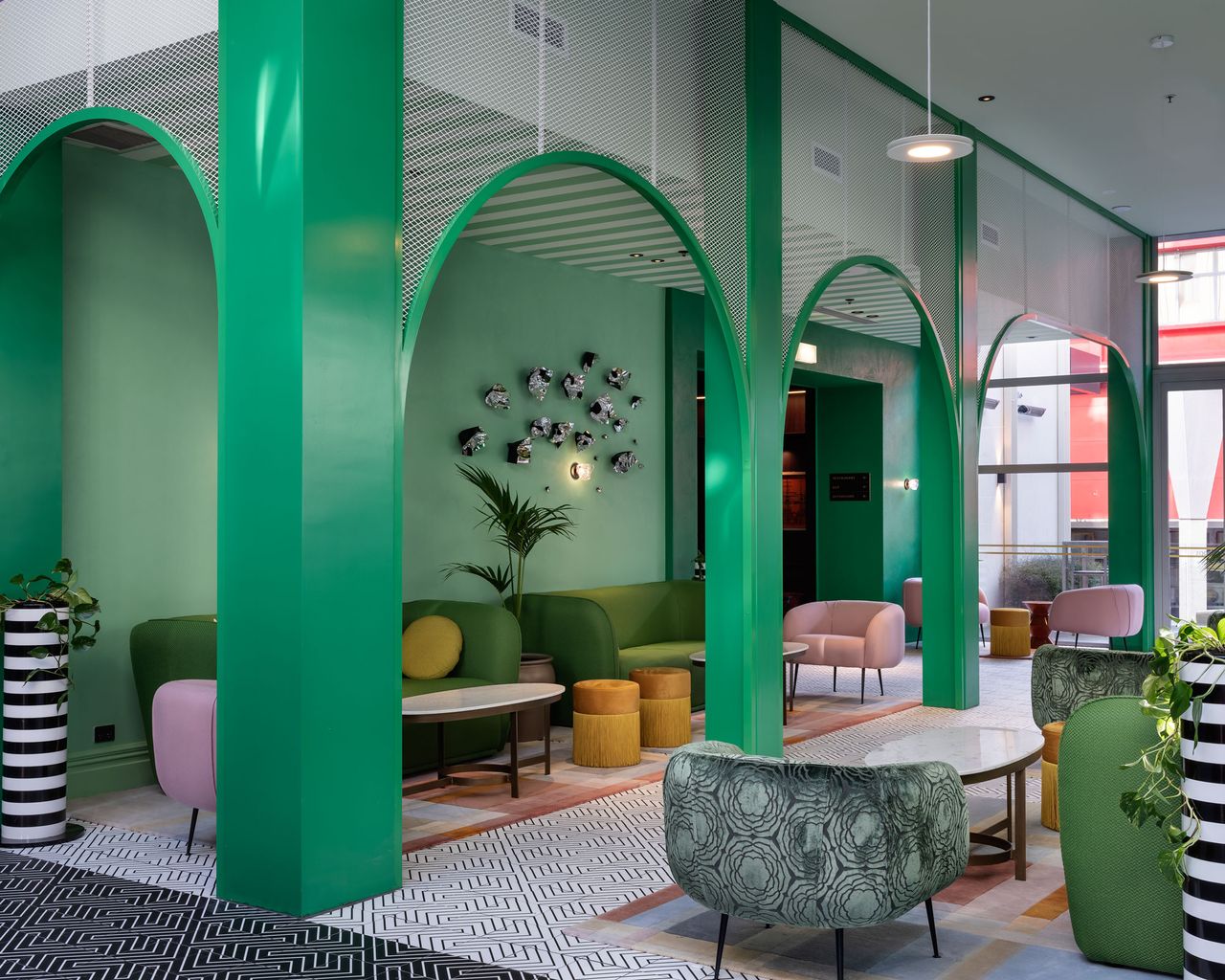 If you've been looking to update your home with a dash of unique features or maximalist details, here are five style lessons to steal from the bold Naumi Studio hotel that can work in any home.
Style lessons from the Naumi Studio Wellington
1. Pair a feature wall with strip lights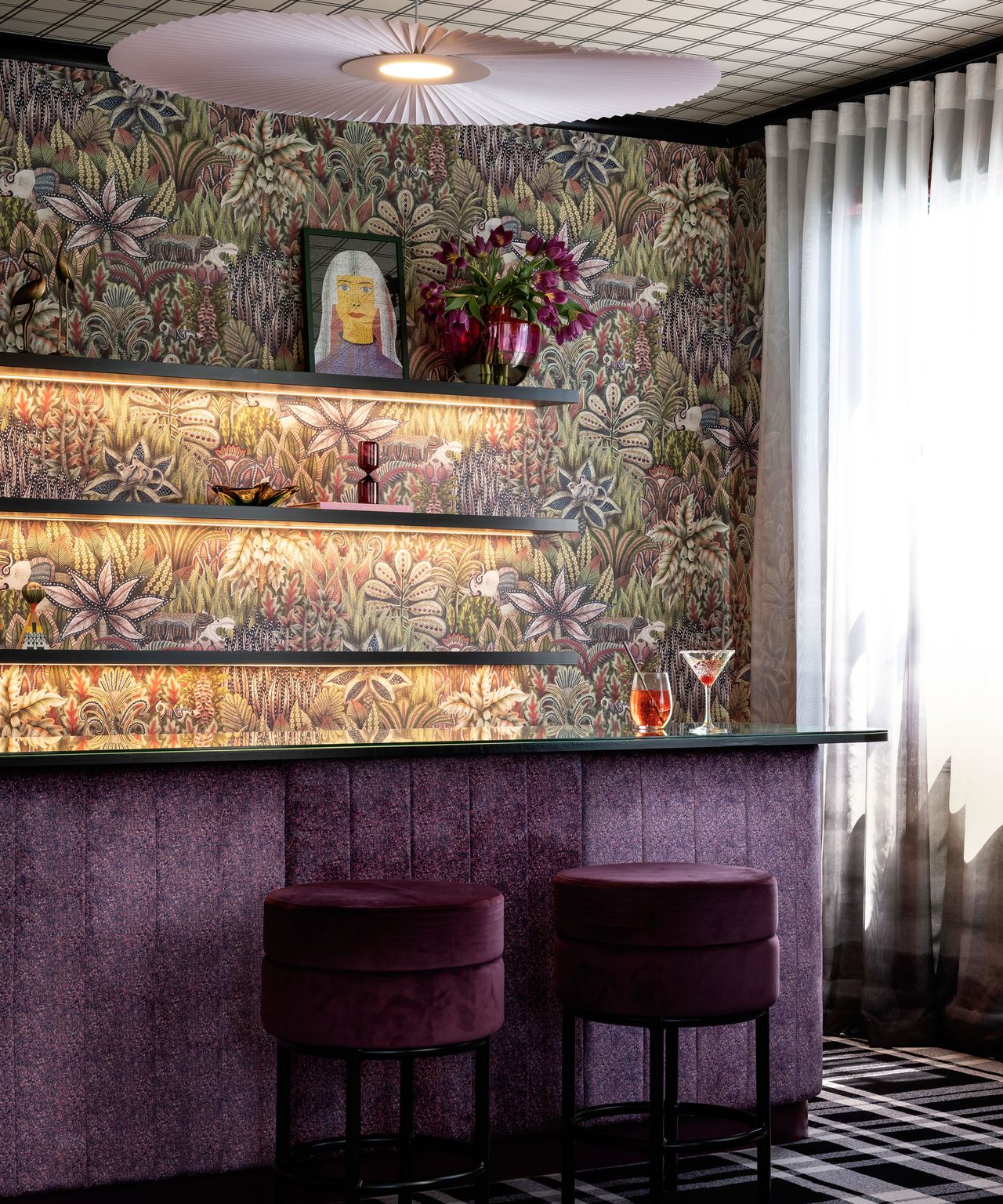 When considering wallpaper ideas in your home, don't be afraid to layer the wallpaper with shelves, artwork and other pieces of wall decor. 
This bar is located in the hotel's executive suite. The strip lighting under the shelves adds an extra dimension to the feature wall, literally shining a light on the exotic wallpaper print. 
If you are looking for stylish home bar ideas, this is definitely one image to tuck away for later. 
2. Mix and match seating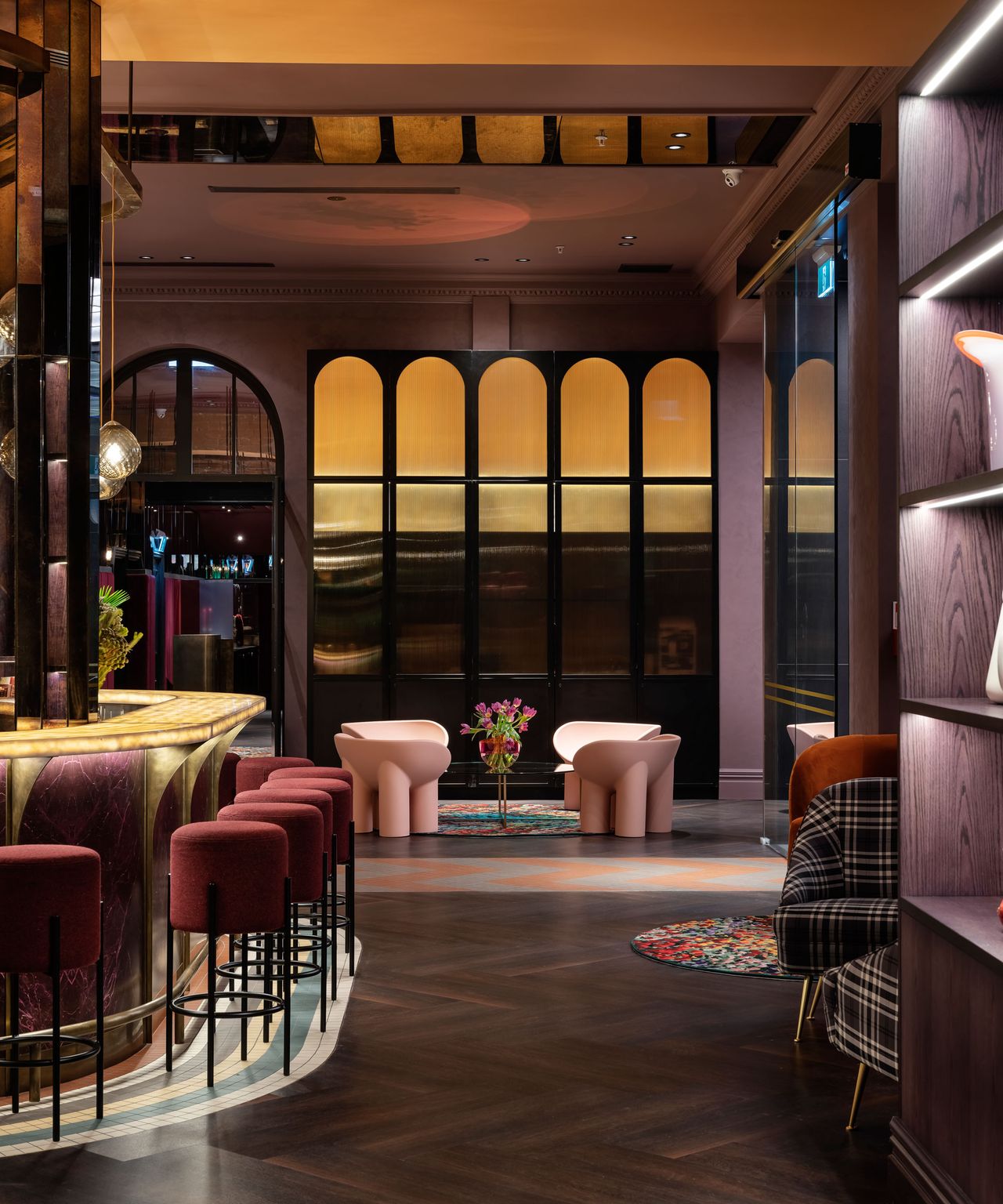 Why stress about choosing the perfect set of chairs when you can pick and mix between many. In this one-room velvet bar stools have been mixed Faye Toogood's voluptuous roly-poly stools. 
When mixing and matching furniture like this make sure everything speaks to each other by picking out a color or particular texture to run through them. Both stools are in the same color family which helps them reside in harmony together.
3. Mix wooden and tiled flooring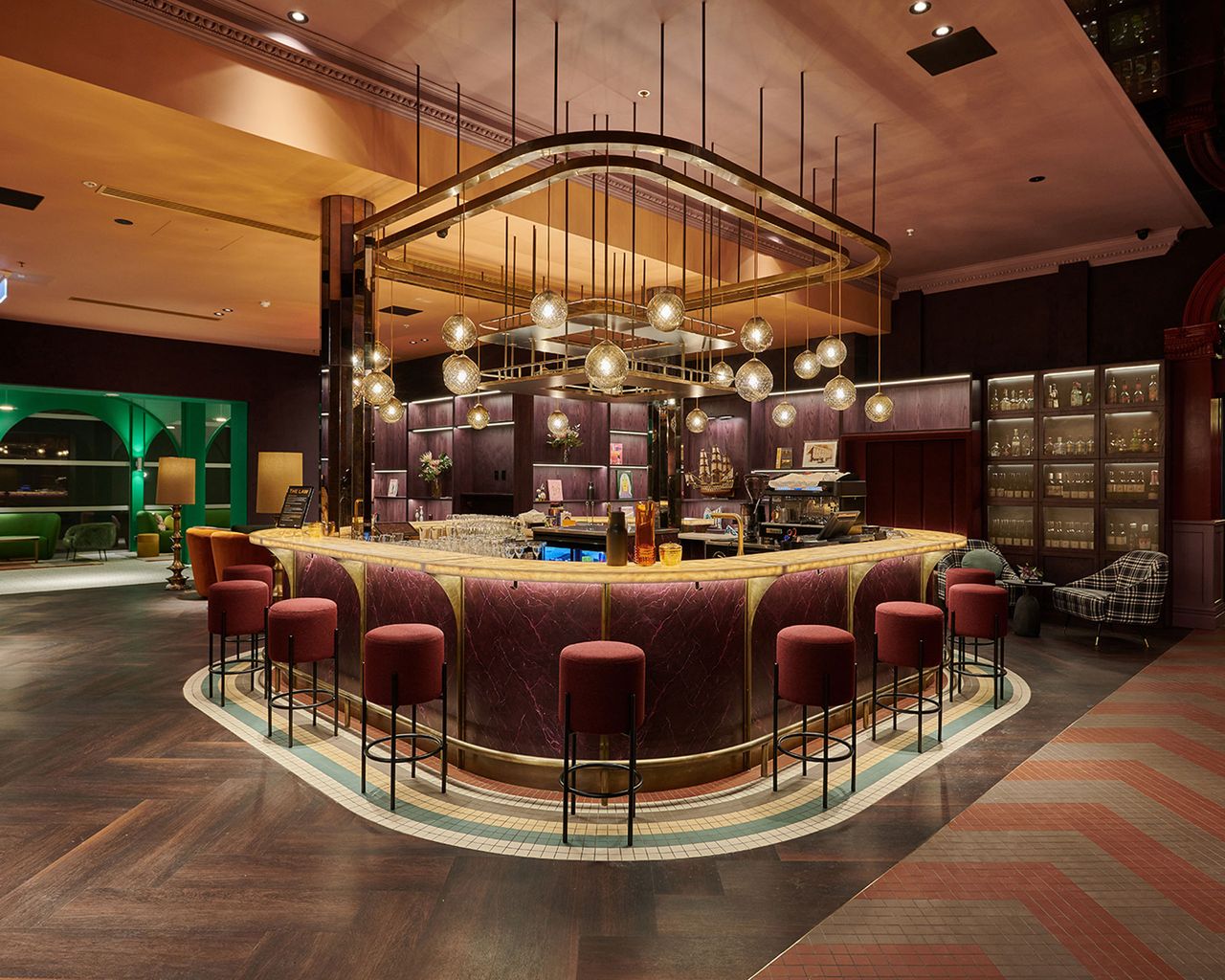 Wood and tiles are not the most natural flooring idea to spring to mind for a hotel bar. However, the combination is surprisingly smart if you're looking to add some color to a dark room. 
The rainbow tiling detail around the foot of the bar is a smart idea that can be incorporated into kitchen flooring ideas. Similar to zoning an open-floor plan with a rug, it can help ground your dining table in your kitchen layout.
4. Color drench your dining room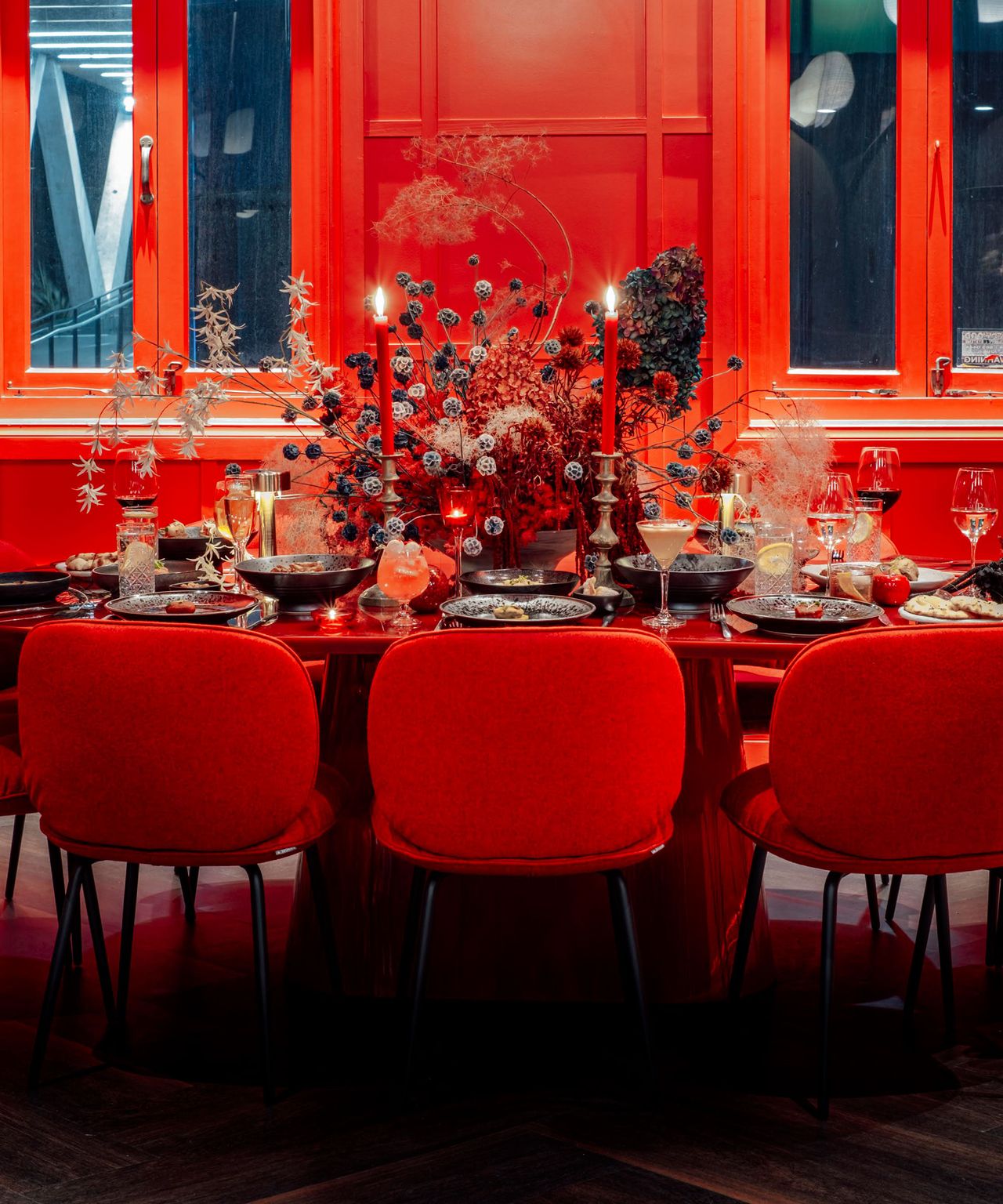 Color drenching has taken off in a big way this year. The trend involves flooding ever surface from your walls to your furniture in one color. 
This dining room has taken the trend one step further filling the table with matching red crockery and candlesticks. If you're looking for a modern Christmas table setting this vibrant red with flashes of black foliage could make your table the talk of the town.
5. Embrace the tiled table trend
Tiled tables are another interior trend having a bit of a moment. While many followers of the trend have opted for neutral tiles, we're sold on this pearlescent lilac number. 
Lavender has already been tipped as the next big color for 2023. Be inspired by Naumi Hotel's purple table if you're looking for a statement piece of furniture to stay ahead of the curve. 
https://www.livingetc.com/news/naumi-studio-hotel-wellington-new-zealand