If you're looking for kitchen floor ideas on a budget, let these cool yet inexpensive options inspire you. There simply is no way around upgrading a kitchen floor that has worn out – design concerns aside, as it isn't safe to be walking and cooking in a kitchen with a floor that has an uneven surface, or is damaged. However, this doesn't mean having to fork out thousands on stone tile or real wood. 
While kitchen flooring ideas that involve inexpensive materials may require a bit more imagination and know-how than, say, marble, they can give you a similar look – and impressive durability. Be amazed by how much can be achieved with these simple, budget-friendly kitchen flooring ideas. 
What is the best inexpensive kitchen flooring that lasts? 
If you're replacing your kitchen floor on a tight budget, that doesn't mean that you don't care about durability or looks. Ideally, you still want a decent lifespan and great finish even if it's the cheapest kitchen floor out there. So, what materials should you be looking at? Leigh McAlpin, Director at Classic Architectural Group, reminds DIYers that since all flooring options are eventually removed, it's safe to say none of them will last forever.' Nevertheless, if you want the best possible combination of durability, style, and affordability, consider laminate tile, which, for McAlpin, 'is the most durable option for your money. Laminate floors are quite strong and are typically resilient against dents or scratches.'
Alternatively, you should consider vinyl. JT Norman, Director of Business Development of Kitchen Magic, a remodeling company specializing in custom kitchen design and remodels with over 40 years in the business, recommends vinyl wholeheartedly. Norman praises this material because 'technology has made it virtually impossible to distinguish vinyl flooring from actual wood or stone. If you have the skill, you can install floating vinyl planks yourself, but it's even easier to do it with glue-down vinyl flooring.  Either way, vinyl flooring is incredibly cost-effective and I think it's is a powerful trend that will continue past 2022 because of its durability, water resistance and versatility of designs. '
A bonus advantage of vinyl is that 'it provides a soft, comfortable feel underfoot.' 
Smart kitchen floor ideas on a budget
As McAlpin mentions, any flooring will eventually be removed so consider the type of flooring that best suits your space and financial needs at the time for the most success in your kitchen space. 
1. Vinyl tile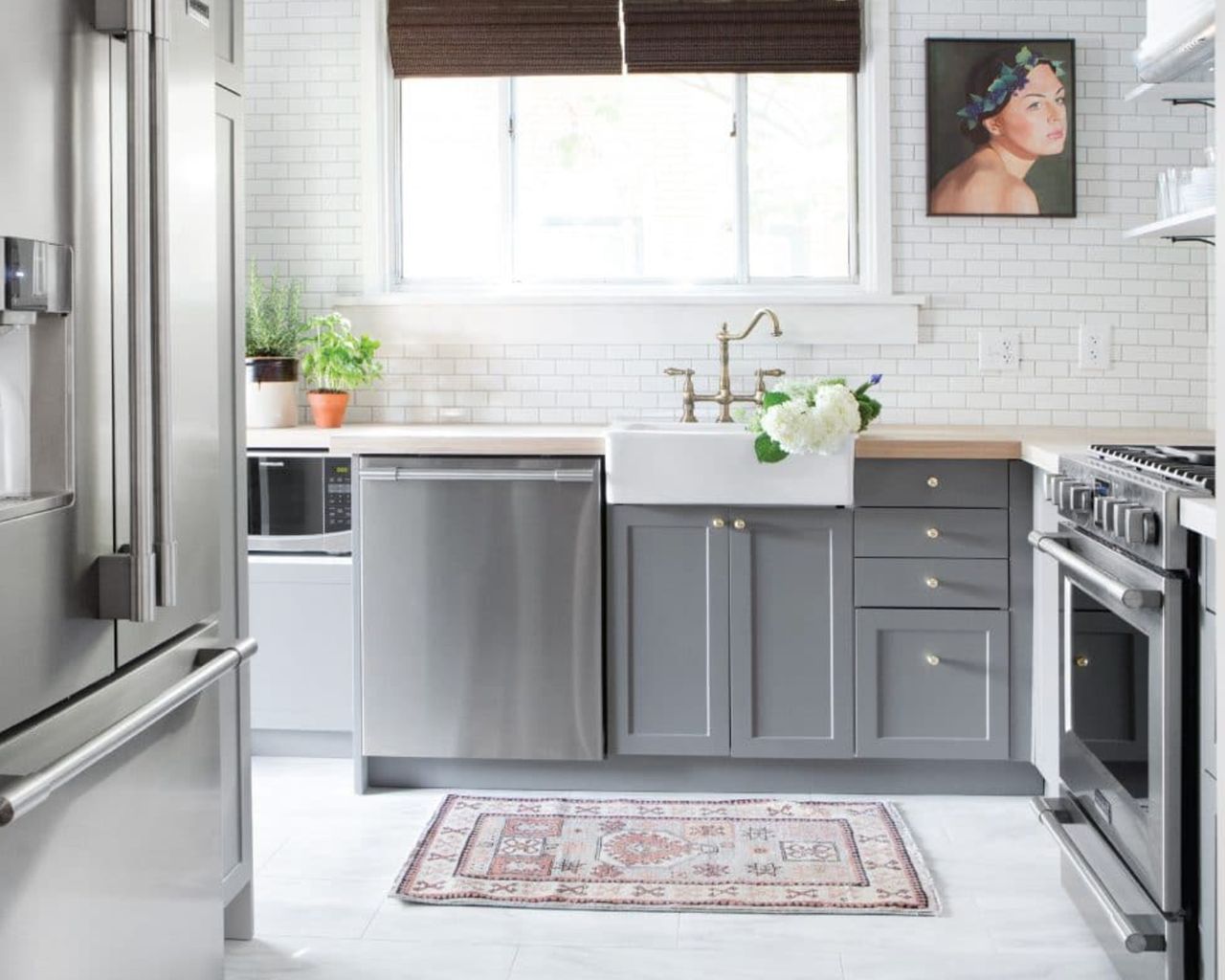 Is this floor made from marble? This masterful kitchen renovation by Chris Loves Julia looks truly luxurious – yet it was done on a tight budget and uses luxury vinyl tile rather than real stone tile. The renovators' secret to the professional-looking secret is grouting the tiles – ' yes! this LVT is groutable!' – with a silver-toned grout.
Vinyl flooring for kitchens has so many benefits – it comes in an almost infinite range of realistic finishes that mimic everything from natural stone to wood, it can be installed on a DIY basis, and it's easy to clean. 
2. Linoleum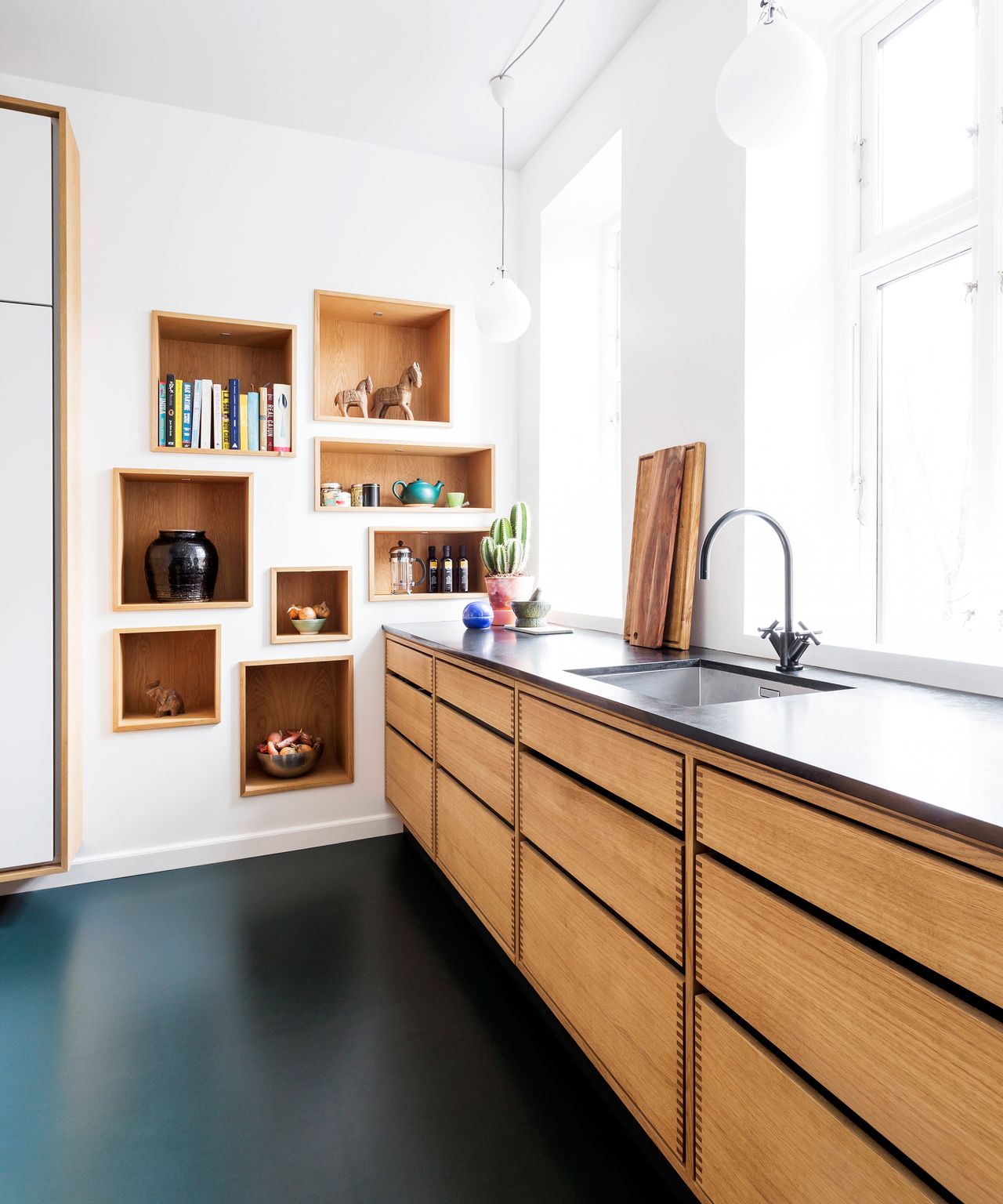 'Are they really recommending linoleum?' you may wonder. The truth is that linoleum gets a bad rap because everyone once lived in a rental with old, discolored linoleum floor that they loathed. That said, linoleum is actually a great kitchen flooring material on a par with vinyl. It's also a sustainable, biodegradable alternative to vinyl tile, made from flax. Linoleum is hardwearing, and patterns won't wear out of it because they run through the entire material rather than being painted on top. 
Linoleum costs about the same as vinyl tile and will last around 30-40 years. Old linoleum can be painted or stenciled over for a lease of new life. 
3. Painted wood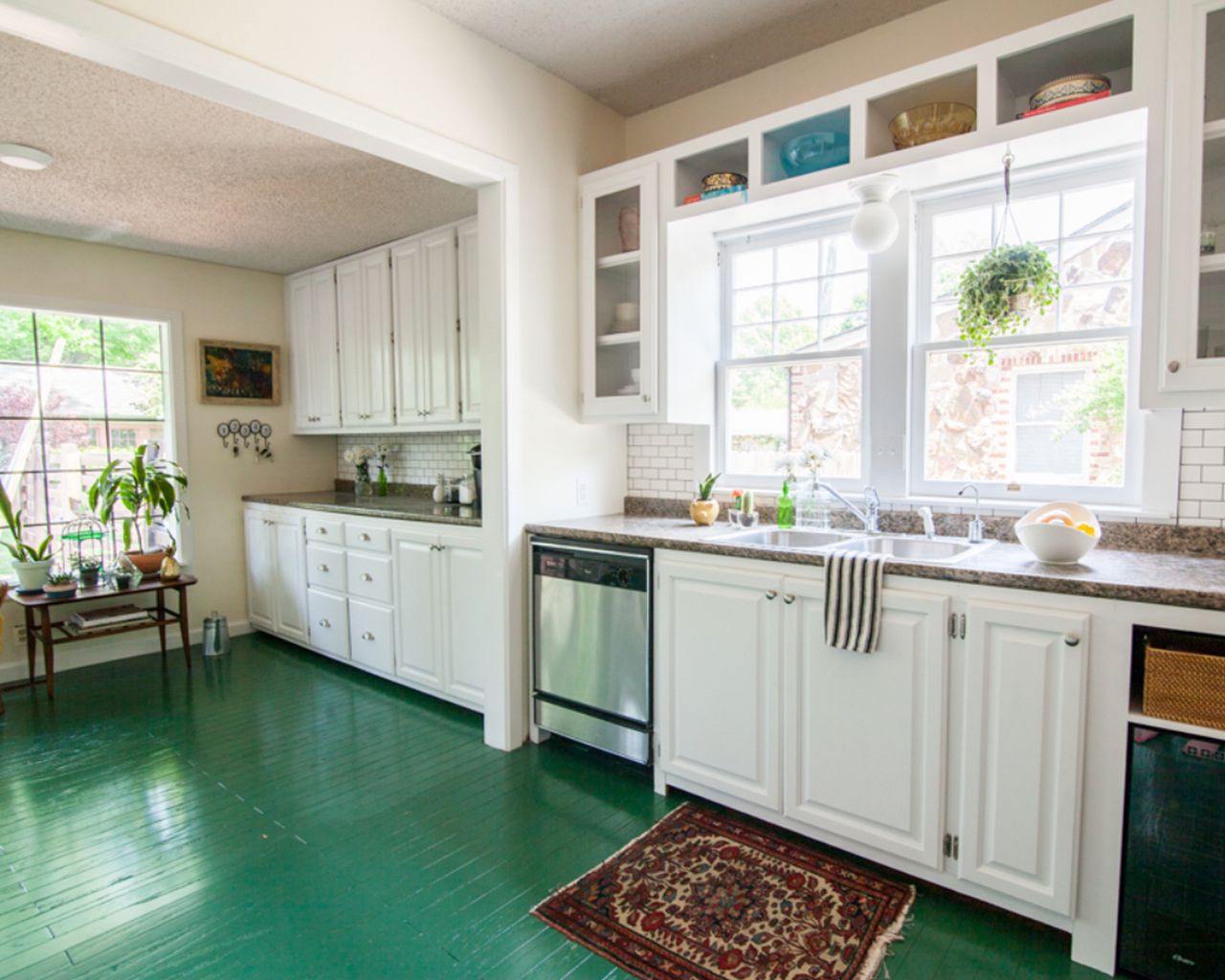 Old and damaged wooden flooring in the kitchen? Don't rush to pull up the floorboards just yet. Wood is a valuable flooring material that is difficult and expensive to replace, so if it is at all salvageable, try to spruce it up before you decide to replace it. Learn how to refinish hardwood floors in the first instance. You'll have to rent some tools for the job, but that's still cheaper than replacing your entire floor.
If the floor still doesn't look amazing after sanding, or if you just want a colorful update to your flooring without replacing it, get painting. The paint used in this kitchen project by White Dog Vintage only cost $35, but what a difference it makes to the whole look. For durability, always seal the floor with polyurethane.
4. Stencilled tile effect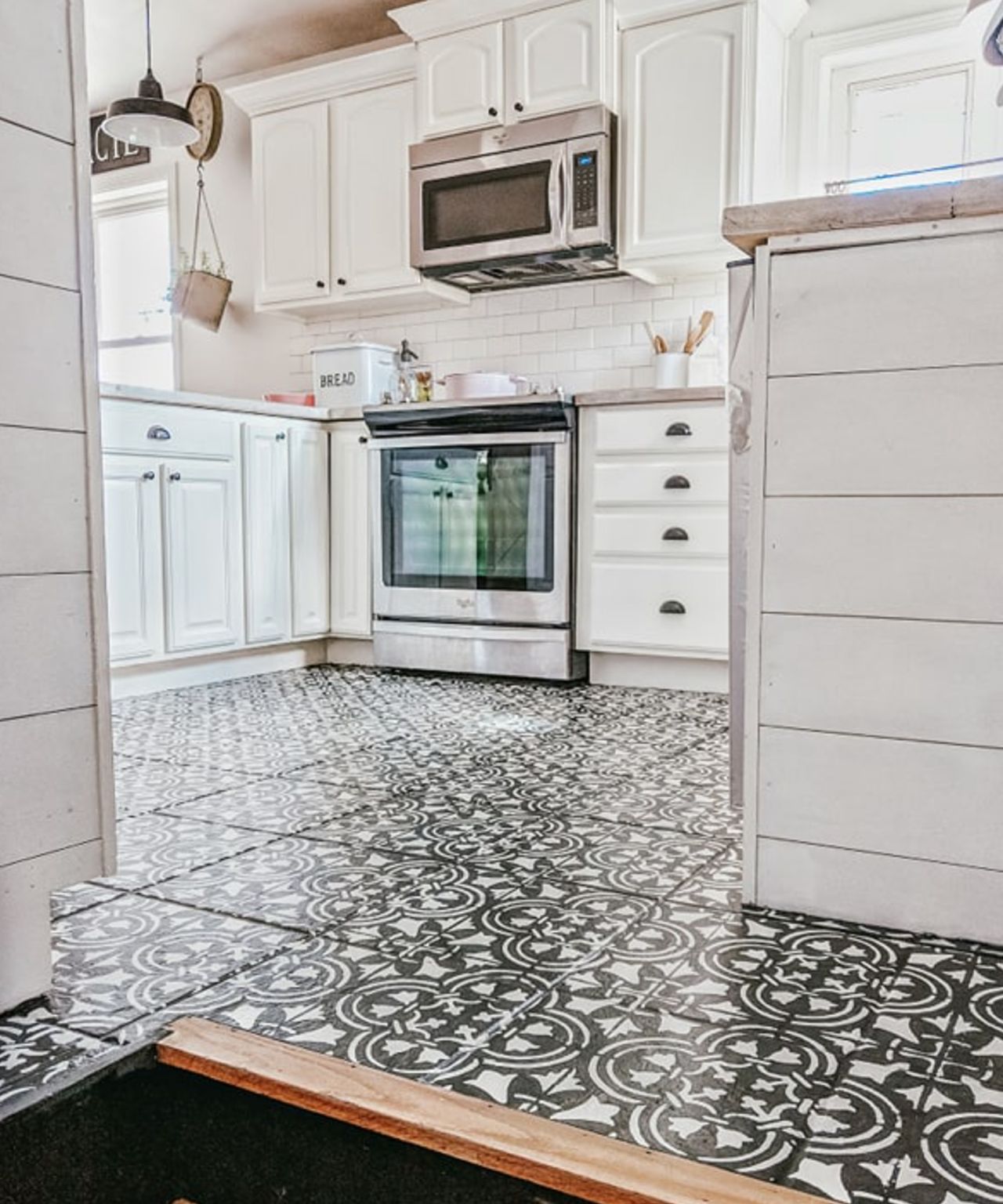 If your floor is plain white and a bit unexciting, you have the perfect blank canvas for a stencil transformation. Erica Mueller, DIY and interiors blogger at Our Forever Farmhouse, painted her plain ceramic floors using stencils, which, as she puts it, 'make a HUGE statement for under $100!' Reusable stencils can be bought from Amazon and are really easy to use. Just remember to apply with foam paint rollers, also from Amazon, and always apply a top coat if using chalk paint, or it will smear.
5. Ceramic tile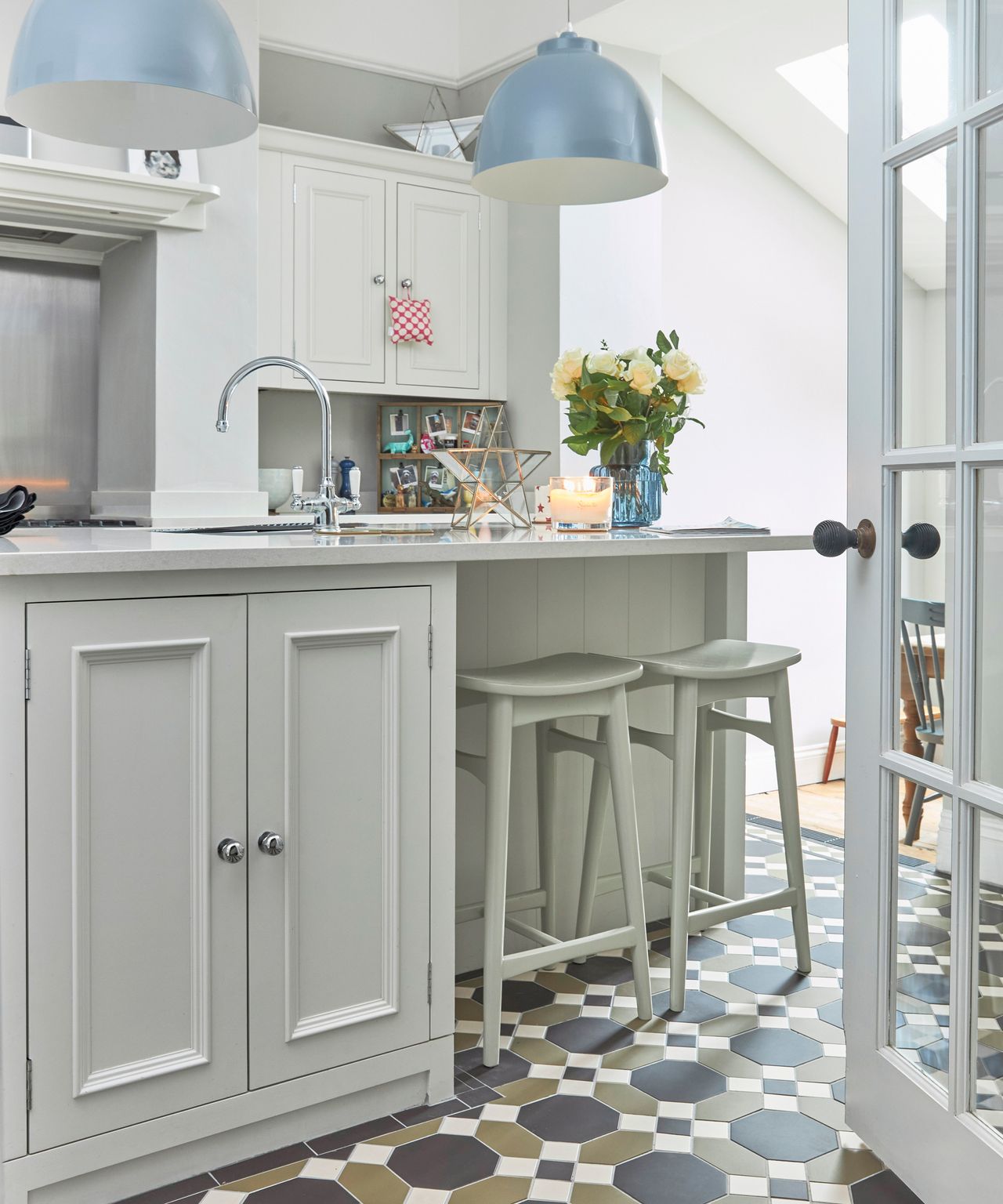 Ceramic tile is a kitchen floor classic, and with good reason. Ceramic tiles are durable and hygienic – any spills are very easy to mop off of them, and, if properly cared for, ceramic flooring can last a very long time. It's also not as expensive as you might think, with prices starting at as low as $25-30 per square meter. Of course, complex designs will be pricier and trickier to install, but even fancier kitchen floor tile ideas are cost-effective if your kitchen is small.
6. Laminate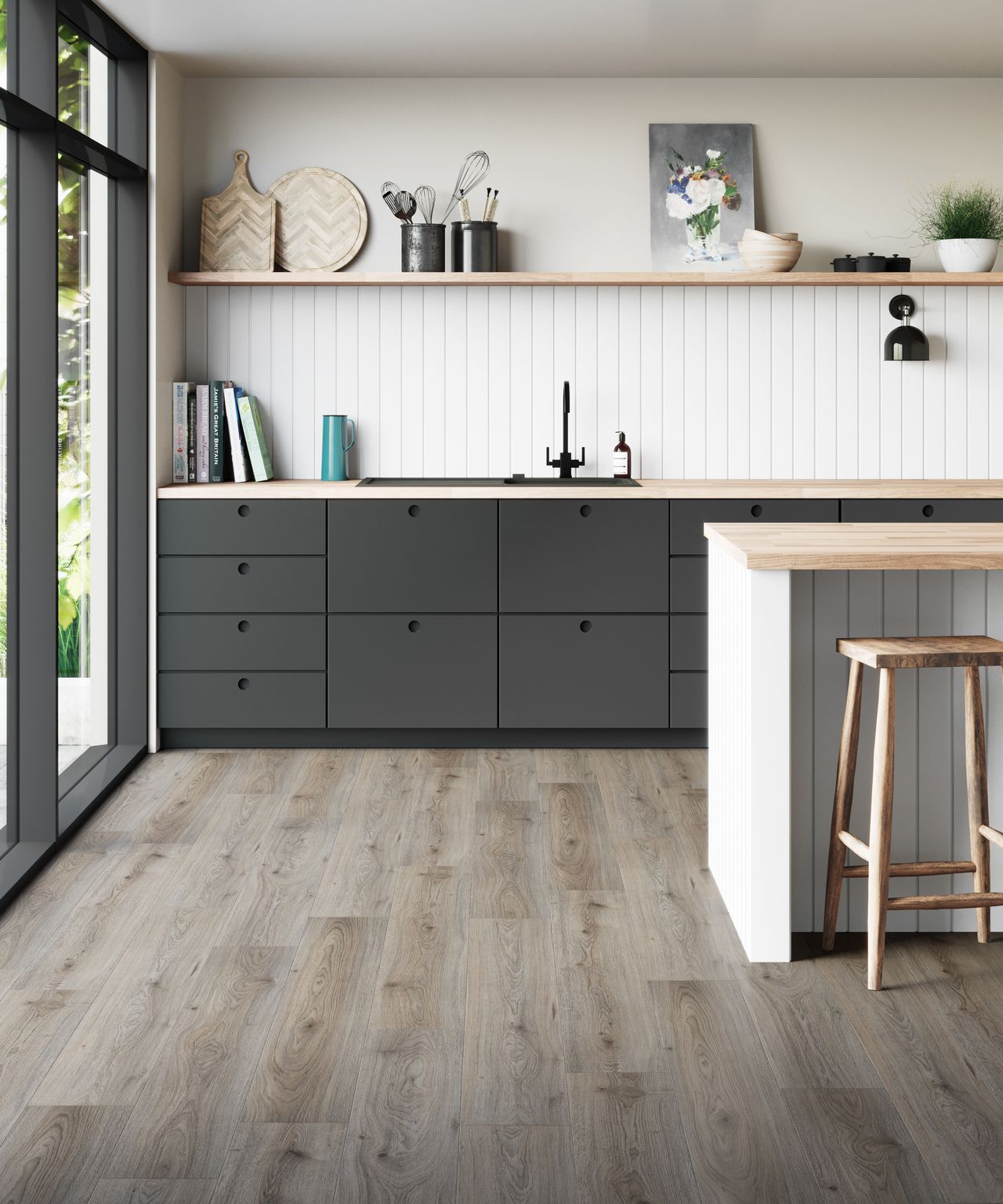 Gone are the days when laminate was synonymous with 'cheap-looking'. The great news is that the best laminate flooring is still cheap but looks expensive. Laminate is made from wood composites but these days, it's made to look every bit like the real thing, complete with knots, grain, and even the texture of real timber. Installing laminate tiles is easy, too, so can be achieved by an experienced DiYer
7. Partial tiling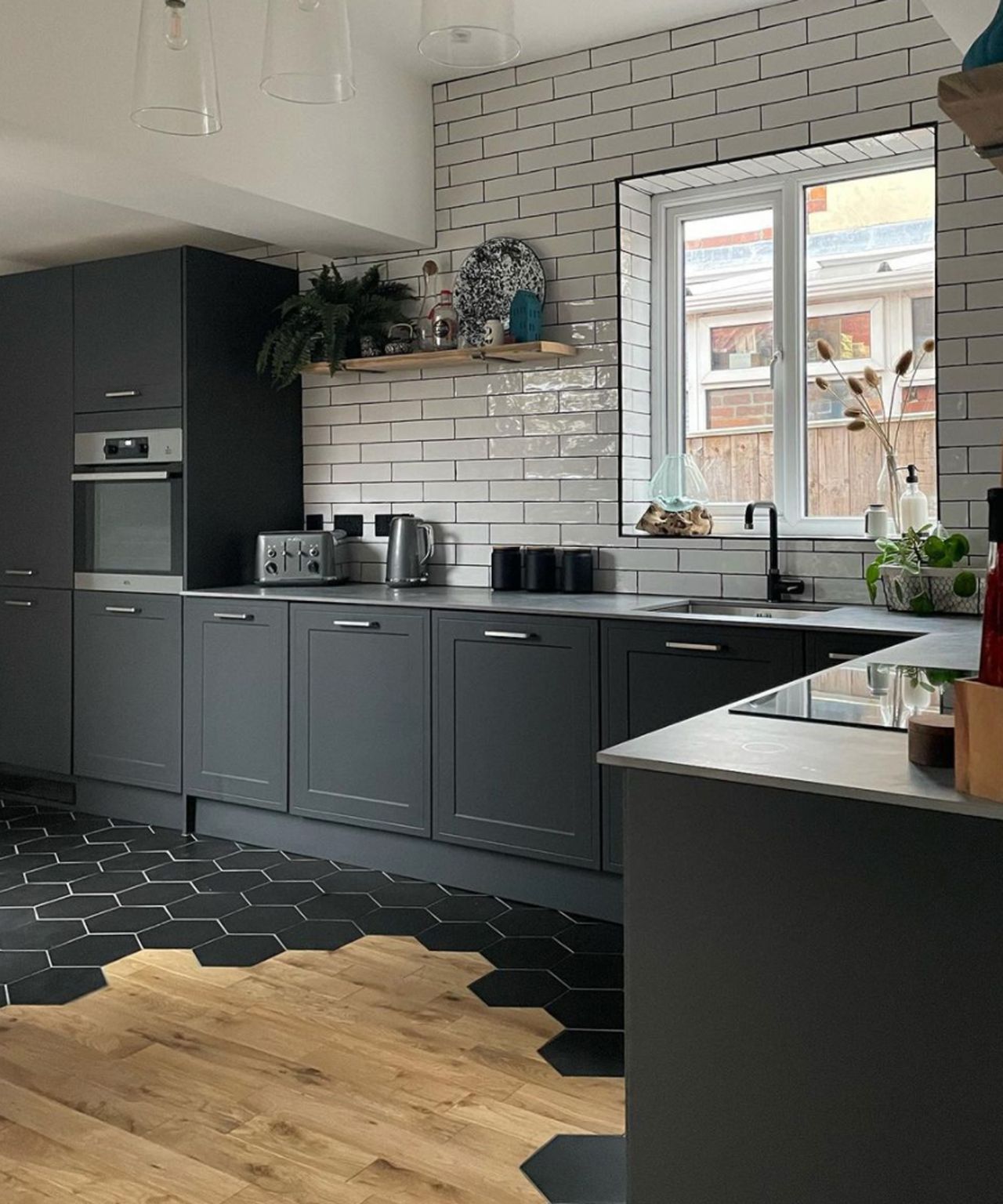 Instagrammer and blogger Phil created this striking kitchen floor using black hexagonal tile combined with brand-new wood flooring. This is both a stunning look and a practical solution for the kitchen. Phil told us that he 'used an inexpensive standard black tile and laid it in an unusual way to get a high-end finish.' The hexagonal tile saves a lot on the cost of the wooden floor and gives lots of design flair to the kitchen.
8. Peel and stick tiles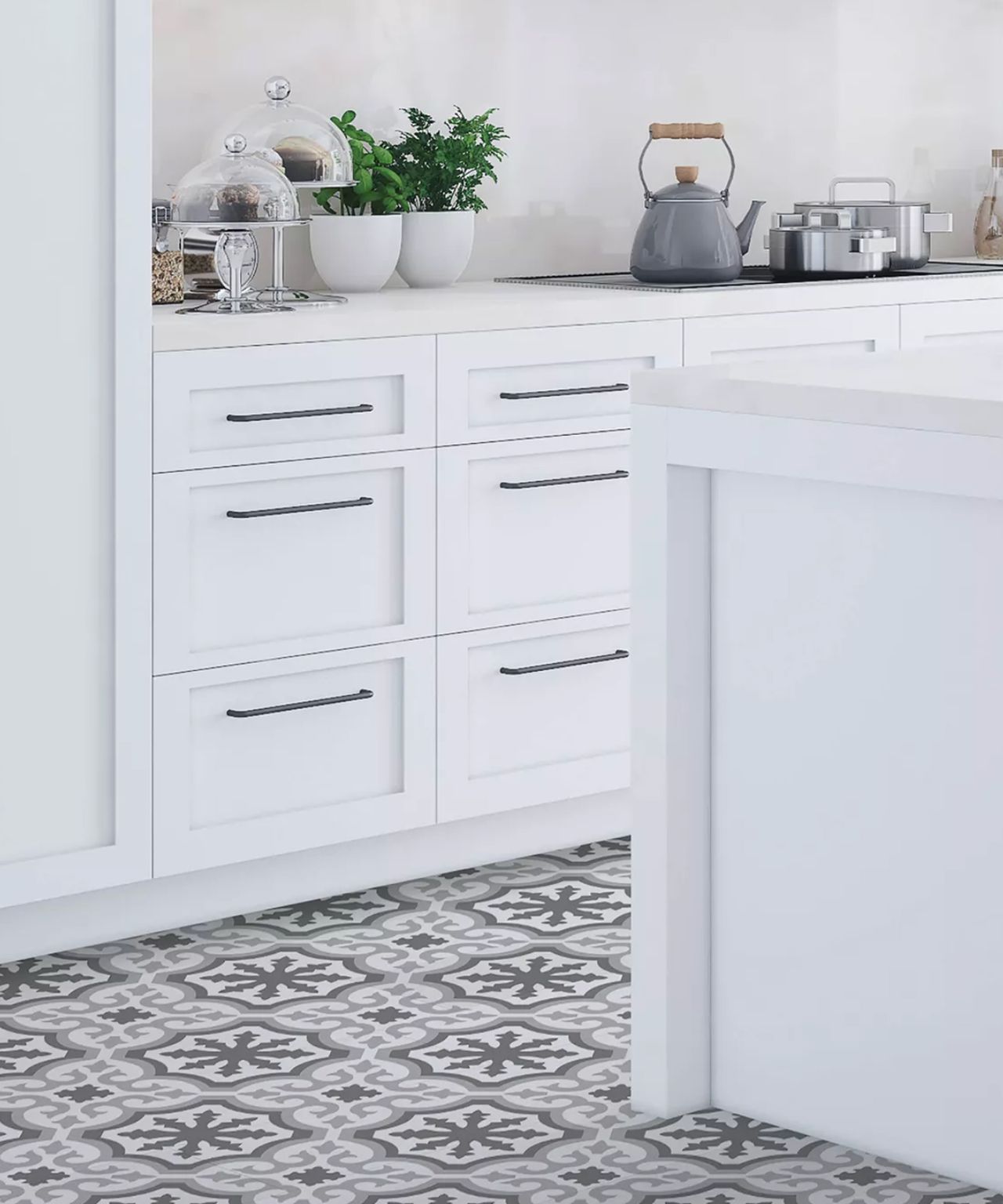 Essentially a sticker version of vinyl tile, peel-and-stick tiles will save you a substantial amount on cost and labor – you won't need a primer or topcoat, as these are self-adhesive and pre-sealed for a waterproof finish. They can be stuck onto a concrete subfloor or applied directly on top of your old flooring, but be careful – if your current floor is uneven, it will show, so you may need to level it first. Some brands are better than others, so read the reviews before buying. 
9. Cork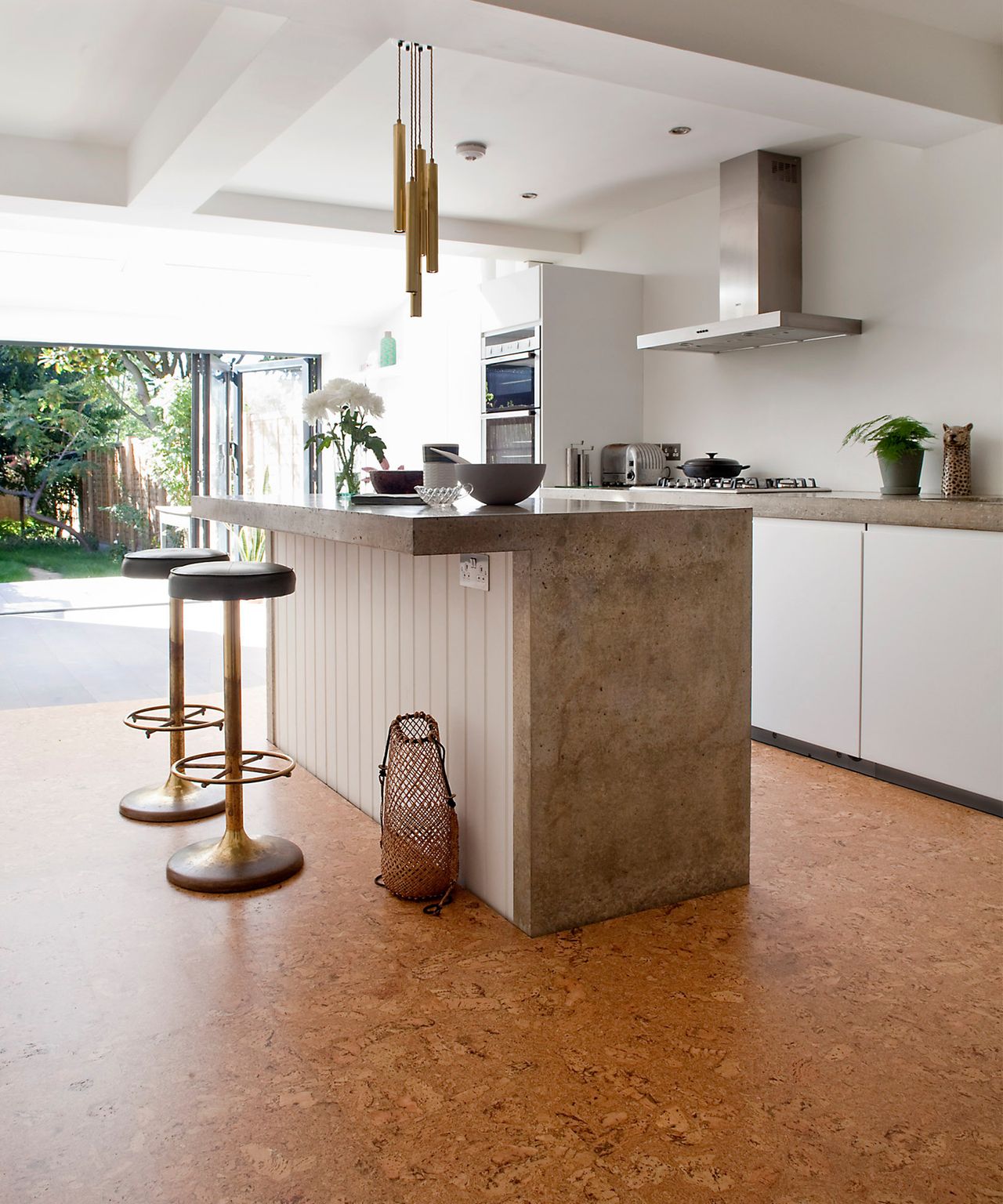 This is one of those kitchen floor ideas on a budget you've probably never heard of, but it's actually quite brilliant. Cork is a sustainable, natural material that will look amazing in a range of kitchen decor schemes, adding a soft and natural look to modern kitchens, or blending in with the charm of a country kitchen. The cost of cork flooring varies and starts at as little as $2 per square foot, although we recommend going for thicker, better options, which will run at around $10 per square foot. Professional installation for cork is quite simple and therefore inexpensive (add 1$ per square foot).
What is the most inexpensive kitchen floor type?
According McAlpin, 'the cheapest kitchen flooring option is typically vinyl flooring. Vinyl flooring is easy to clean and maintain and is also relatively durable for its price point.'
Marina Vaamonde, home remodeling expert and founder of HouseCashin, qualifies that 'The cheapest types are peel-and-stick tile, peel-and-stick planks, and sheet vinyl. Prices range from $0.50 per square foot for good-quality, economy vinyl flooring, while higher quality ones can be $1.50-$2.00 per square foot for standard tiles. The highest quality luxury vinyl planks range from $3-$4 per square foot.'
What is the easiest kitchen flooring type to install?
Again, vinyl wins. Peel-and-stick vinyl tile require no DIY experience whatsoever to install, and vinyl tile is also pretty easy. Vaamonde confirms that 'without a doubt, vinyl flooring checks all the boxes when it comes to cheap and ease of installation. You can generally lay vinyl right over the subfloor (or suitable existing flooring), which dramatically reduces your cost of installation because you don't have to do a new underlayment. I use it all the time in properties that we remodel.'