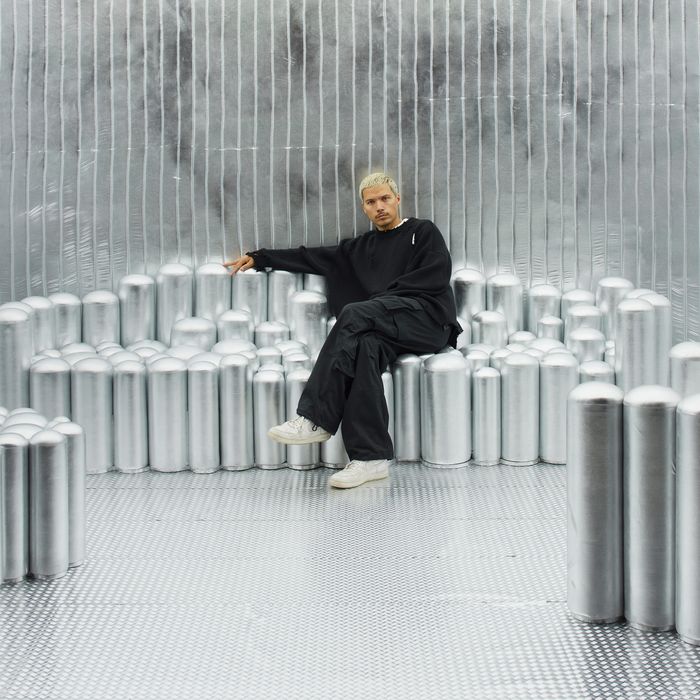 Harry Nuriev seated on his latest couch design at Design Miami.
Photo: James Harris/Courtesy the artist and Crosby Studios/
Harry Nuriev still remembers his first ride in an elevator. He was a teenager. "While growing up in low-income projects in Russia, elevators were not very commonplace," he explains. He has since been in many other elevators all over the world, but his latest project, The Elevator, a retrofuturistic installation he unveils today at the 15th edition of the design fair Design Miami/Basel, is inspired by a lift's speed and its quality as a room that is constantly in motion. It also continues his fascination with the metallic, the monochrome, and the mid-century Italian modernism that has been typical of his firm Crosby Studios' well-received work.
Nuriev, 37, grew up in Russia and graduated from the Moscow Architectural Institute in 2014. He named his firm Crosby Studios after a visit to New York, where he finally settled in 2016. In the Design Miami booth, the designer has arranged a couch, an armchair, and an ottoman that are composed of chrome eco-leather-upholstered cylinders — "fingers that point up," the designer calls them — and clustered at different heights. The overall arrangement recalls a cityscape, sleek and alien at once. He completes the elevator experience by dressing the booth walls in the same eco-leather metallic cloth and adding a panel of buttons and an emergency window. The booth specifically references the padded elevators he often saw on American construction sites. "I've always been amazed by their over-the-top presence and knew I would appropriate the aesthetic one day," he says.
View of The Elevator at Design Miami. All pieces by Harry Nuriev.
Photo: James Harris/Courtesy the artist and Crosby Studios/
Known for his monochrome interiors drenched in colors that "are not supposed to cover an entire room," like acid green or vivid purple, the designer searched for the right color to imbue his design. His ultraviolet furniture-and-object line for Opening Ceremony in 2018 coincided with a solo exhibition of swan-shaped tires and a carousel-like picnic table at Dallas Contemporary museum. His 2019 Design Miami collaboration, The Balenciaga Sofa, is a sofa he stuffed with discarded or offcut Balenciaga items.
Nuriev produced the upholstered foam and plywood furniture, which come in a limited edition of eight in Russia. The next step for Nuriev is to expand The Elevator line with a daybed and a table. As he says, "A sofa is the queen of a room, but I'd like to explore how I can capture a metallic softness in other types of furniture."
Detail of the couch and chair by Harry Nuriev at Design Miami.
Photo: James Harris/Courtesy the artist and Crosby Studios/
Photo: James Harris/Courtesy the artist and Crosby Studios/
https://www.curbed.com/2021/09/nuriev-design-miami-elevator-furniture.html