The dining room is the social hub of the festive season, where family and friends gather to make memories, drink, eat and be merry. So your Christmas dining room decor ideas are an important part of creating the right balance of ambiance, atmosphere, style, and festive cheer.
'We spend so much time in our dining rooms during Christmas, so it's important to get the mood right,' says Sue Jones, OKA Co-Founder and Creative Director. 'A good trick is to hang a showstopping lampshade directly over the dining table so it doubles as a statement centerpiece, and layer lots of candles – in candelabras, on the mantlepiece, everywhere you can – with golden accessories to set a warm and inviting mood. Everything looks better by candlelight.'
Stylish Christmas dining room decor ideas to wow
From chic tablescapes and Christmas table centerpieces to pretty Christmas decorating ideas and lighting tips, we've tapped the experts to reveal their top Christmas dining room decor ideas below…
1. Create a winter wonderland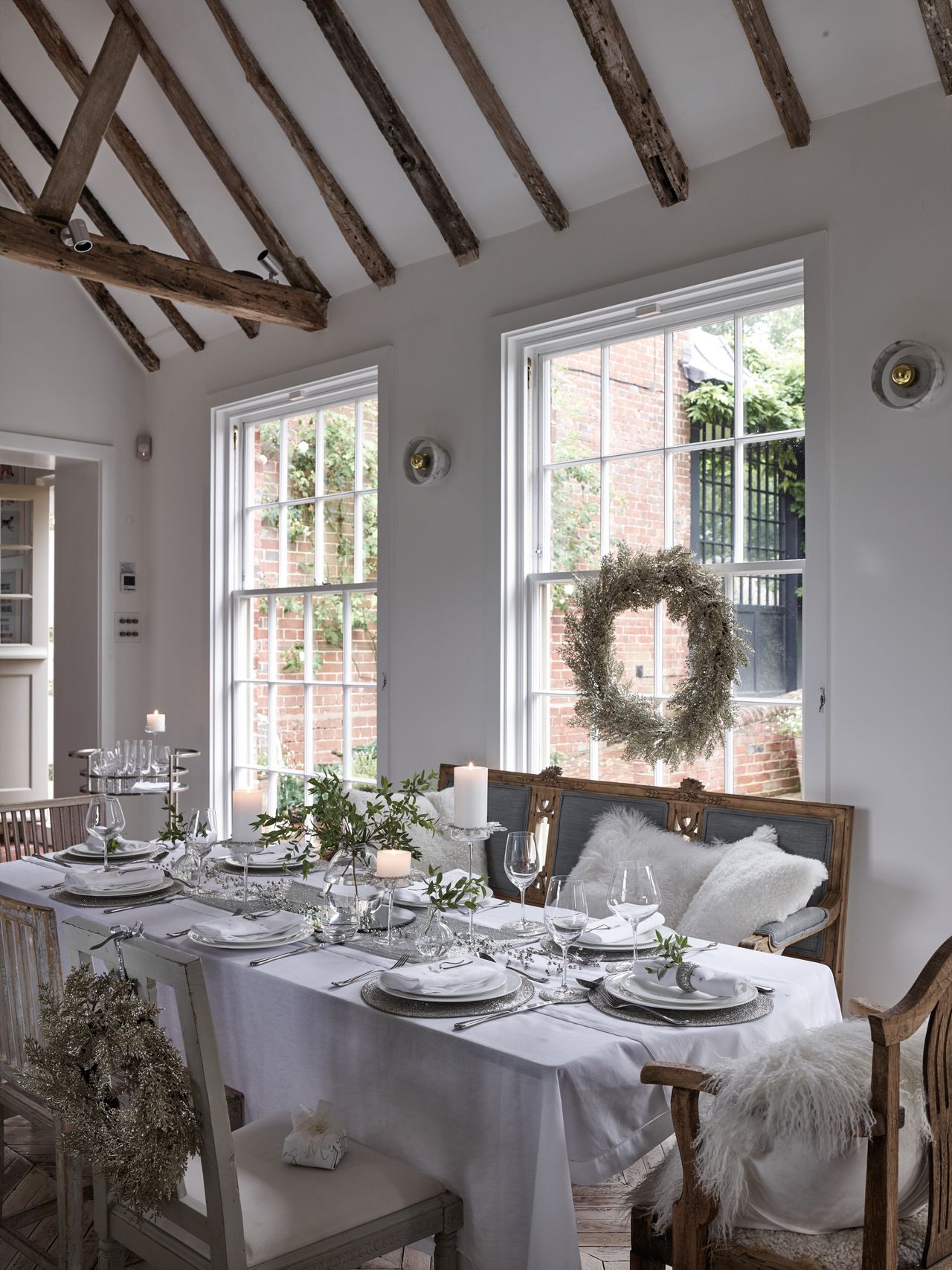 We're dreaming of a white Christmas… and the scheme is a fantastic way to conjure the magic of the holiday season.
Chrissie Rucker, founder of The White Company, is the master of this look. She says: 'Create a stunning celebratory setting with an elegant white table scheme – I love fine bone china, beautiful linens and vintage-inspired candlesticks.
'I love to start with a white linen table cloth and napkins, plus always use our best glasses and china.  Beaded placemats look fantastic and add a magical glow.
 'I run a mixture of both tall and low candle holders down the center of the table on mirrored chargers, together with lots of very simply arranged white flowers and greenery. I don't like flowers to look too "arranged".
'On each place setting,  I add a cracker and tie the napkin with some greenery, a small decoration, and a named white heart gift tag, so everyone knows where they are sitting.'
Finish this dining room idea by placing a silvery wreath in the window, or hang one on the back of a dining chair, and layer the seats with cozy faux fur cushions.
2. Hang pretty paper decorations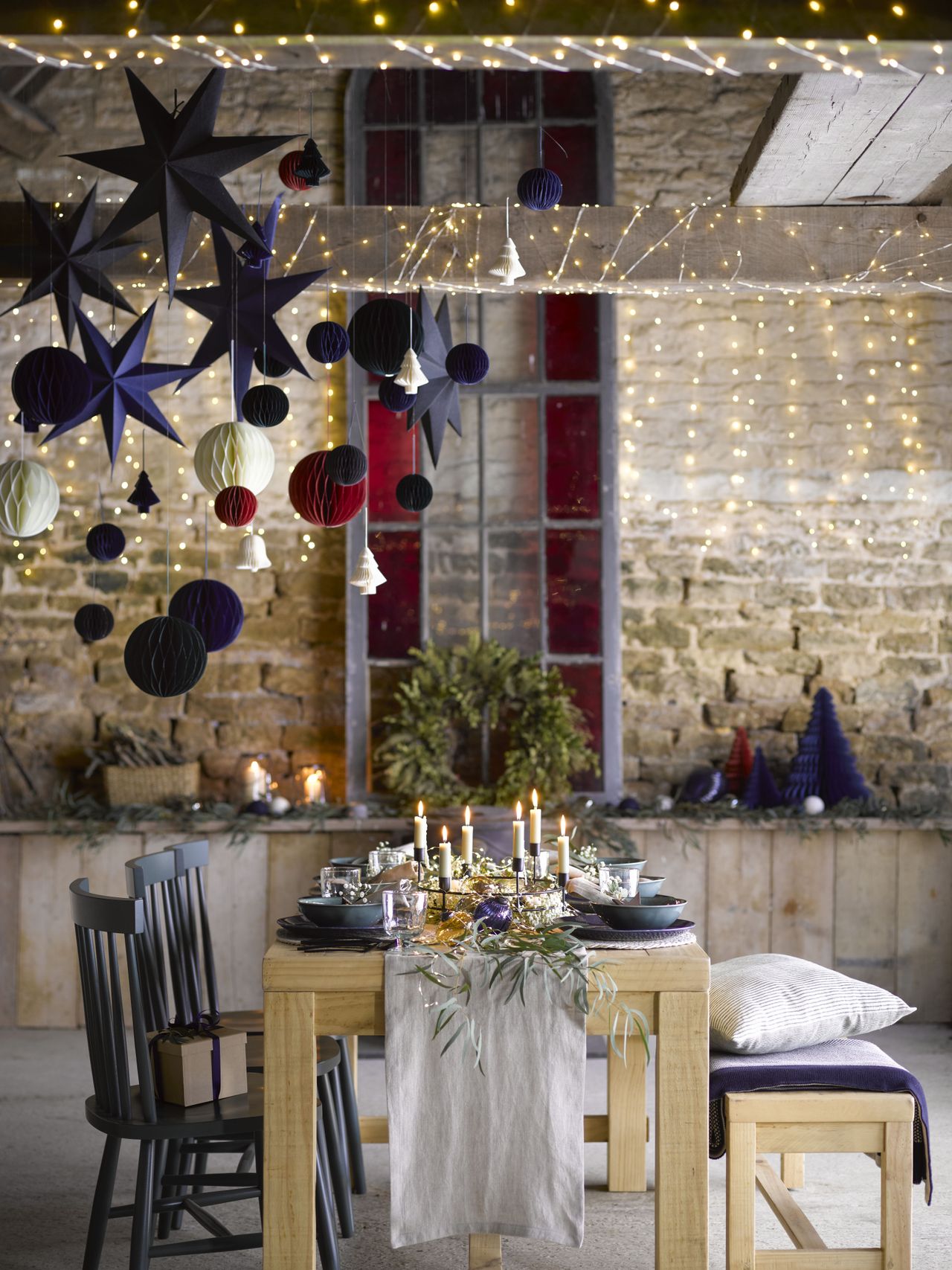 Paper decorations are an easy and inexpensive way to add color and festive feels. Opt for stars, bells or paper honeycombs and either hang them on the wall or, if you're lucky enough to have a beamed ceiling, they make the perfect hanging spot, too.
'Drama and decadence will spread joy as you welcome family and friends,' says Claire Wilks, Design Team at Garden Trading. 'Paper decorations in jewel and spice tones are sure to make a big impact in a dining space set with timeless serveware, pared-back linen, twinkling candelabra and foraged foliage.'
Throw in some fairy lights for extra sparkle.
3. Cover the table in Christmas joy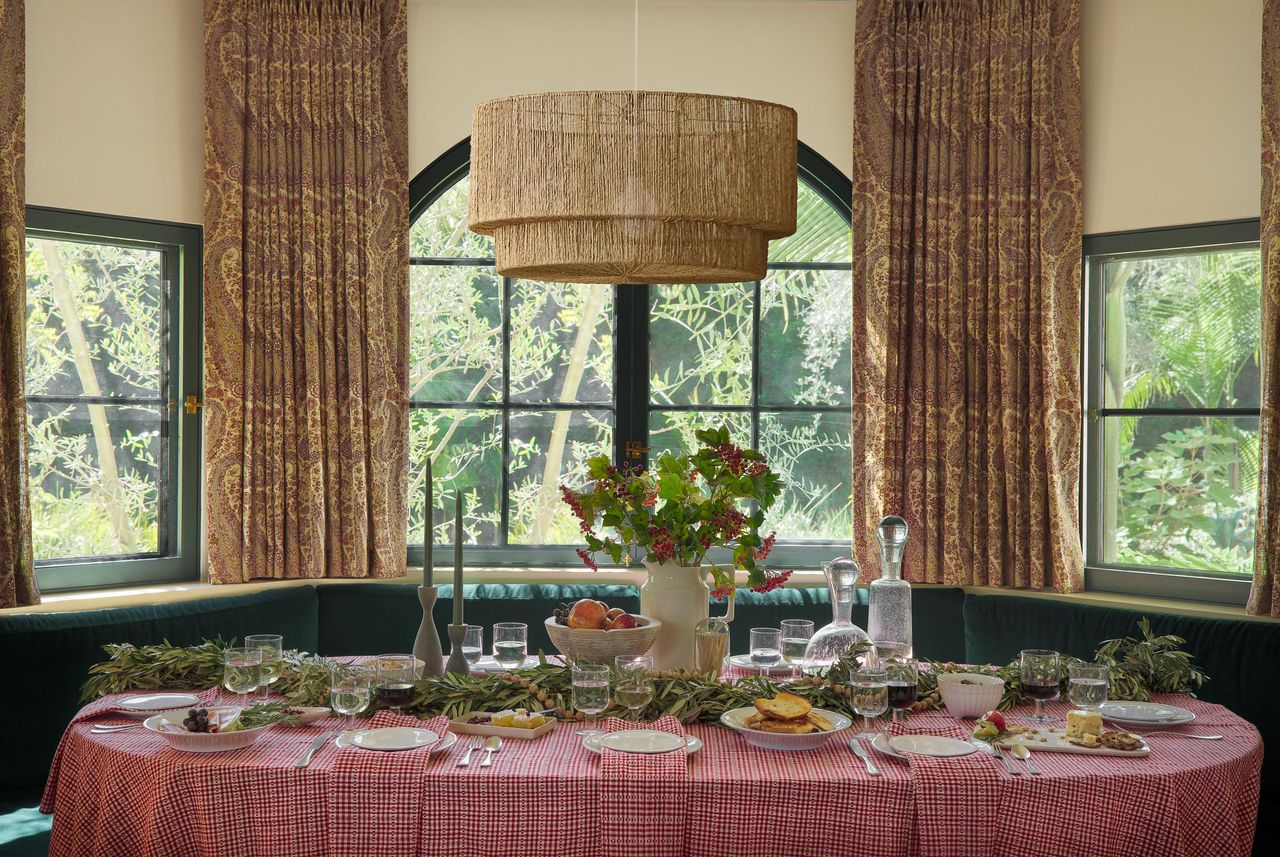 A striking tablescape is an essential Christmas decorating idea. And Lucy St George, co-founder of Rockett St George, suggests you fill the space for maximum impact.
She says: 'One of the best pieces of advice I have for decorating your dining space at Christmas is to create a tablescape that extends as long as possible down the center of the table.  
'A centerpiece is an amazing way to add wow factor, but it's a cascading display that stretches the full length of the table that always stand out from the crowd. 
'Introducing candles, ornaments, and foliage at varying heights is the secret to perfecting this look, as well as plenty of beautiful natural textures. 
'Bowls and vases can also be incorporated into your tablescape – at first overflowing with fruit or glittering festive garlands and then replaced with a showstopping feast of food once dinner is ready to be served.'
4. Enhance your ceiling pendant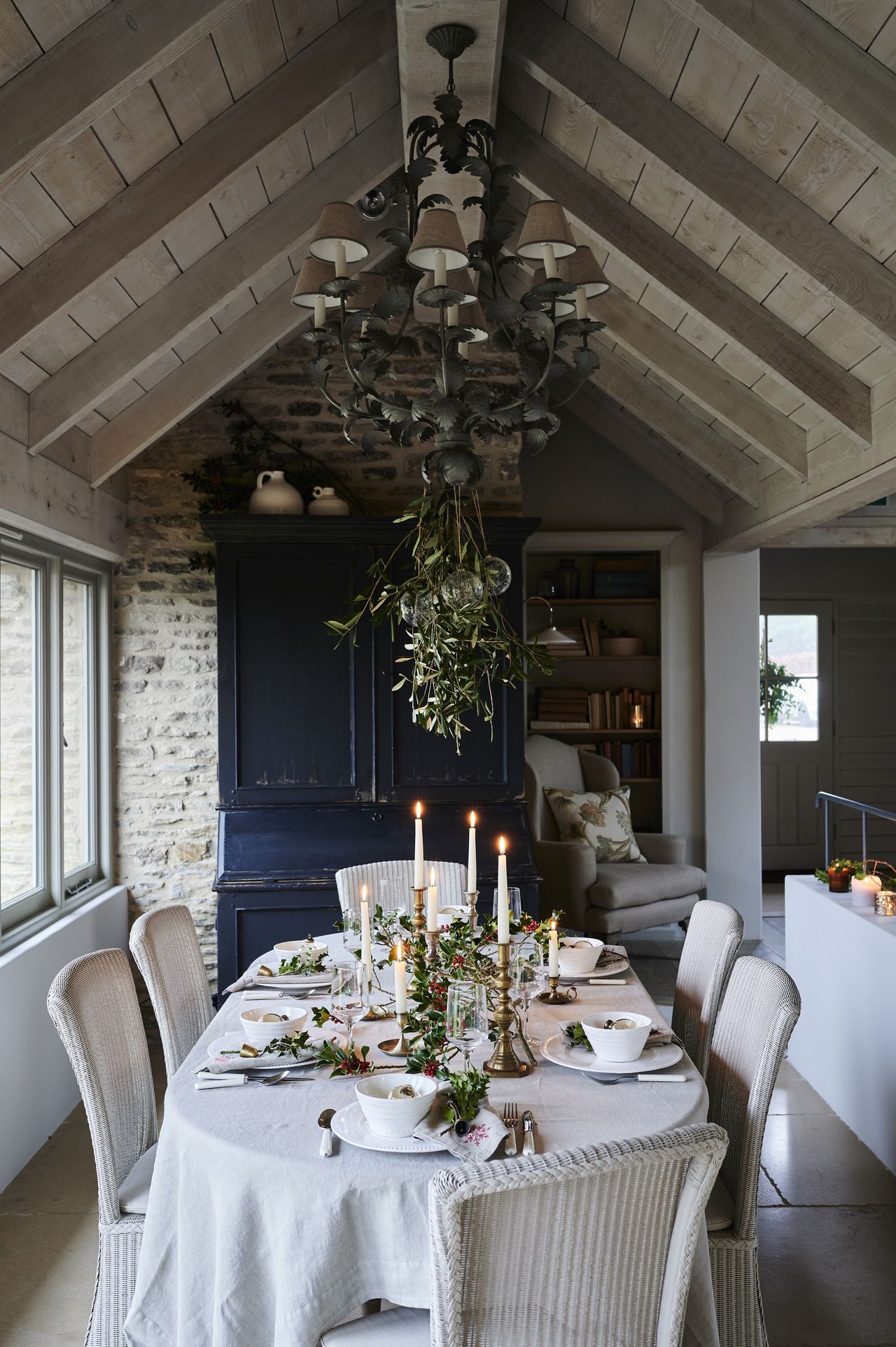 A ceiling light is the ideal spot to 'Christmassify' and makes the perfect place to hang some statement foliage, especially if it's situated over your dining table.
Keep it rustic and simple with tied foliage for a natural look. Claire Hornby, Head of Creative at Barker & Stonehouse, says: 'Hanging fresh greenery and twigs accented with glittery baubles and twine will offer a natural twist.'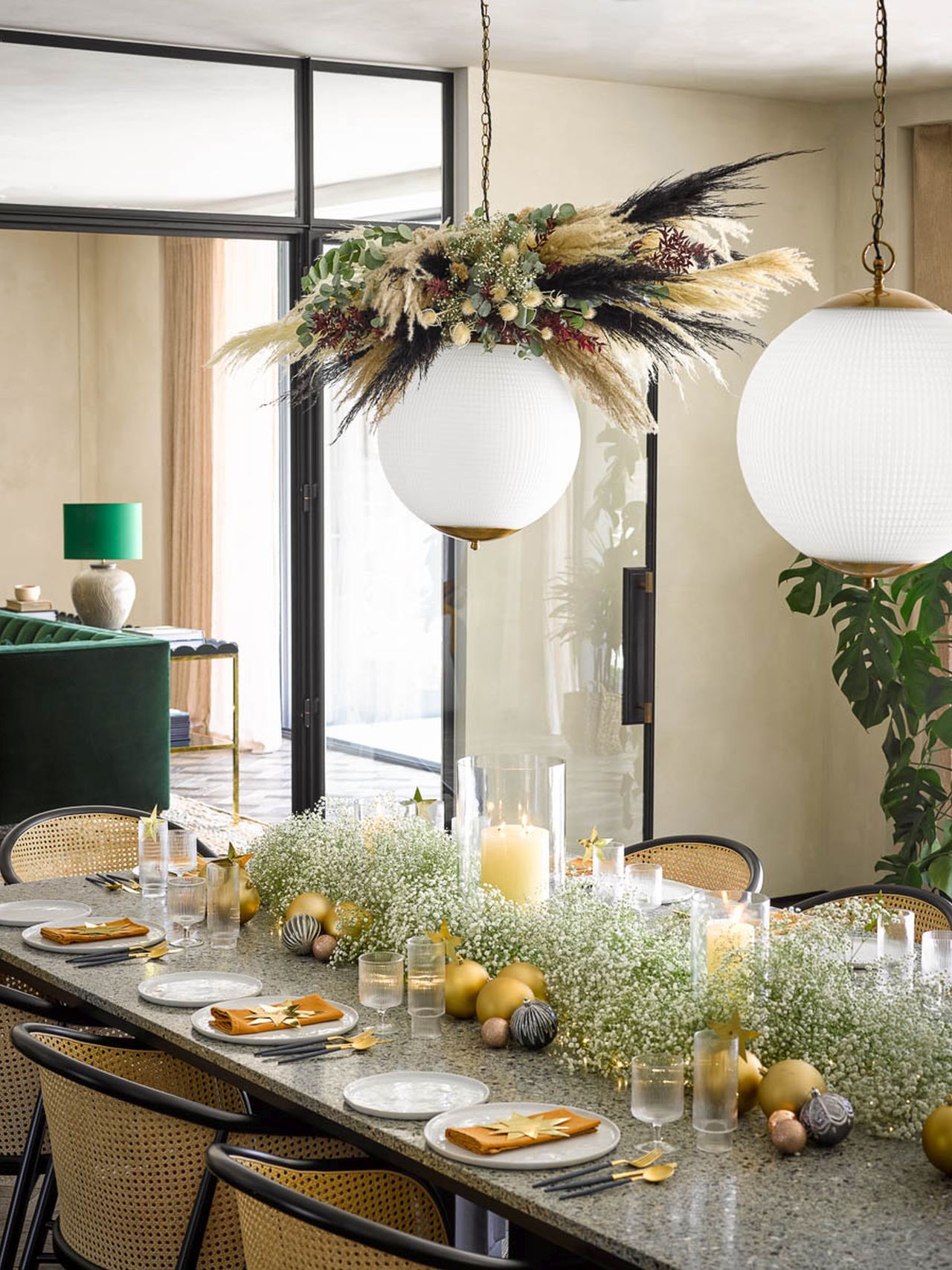 You can also go all-out and place a fabulous display on top of a pendant, including dried grass, foliage, and flowers like the striking bouquet in the image by Pooky above.
5. Layer your lighting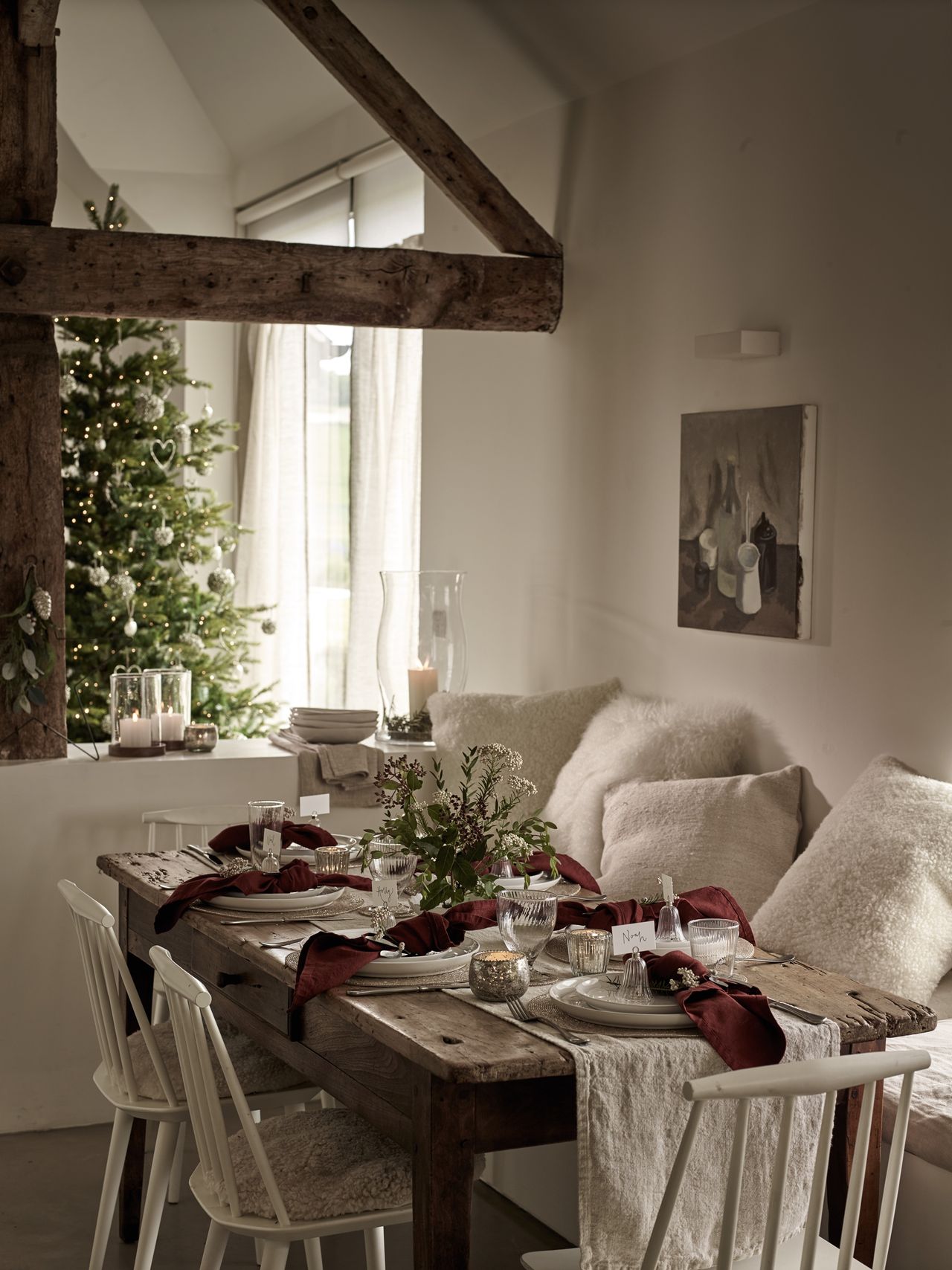 Make sure you dot different types of lighting around your dining room to create a multi-layered soft-focus glow. This helps create that cozy, convivial feel that will make you and your guests want to stay at the table post-dinner swapping stories over a Christmas tipple.
'As with any area of your home, lighting is the key to creating a warm and inviting atmosphere where conversations can last long into the night,' says Lucy St George. 'So, when decorating your dining room for Christmas (or any other special occasion), we recommend a maximalist approach to lighting, with lots of romantic light sources styled in harmony. 
'To add atmosphere, I always ensure that I have plenty of tealights and candles dotted across the table, which, when lit, create a mesmerizingly beautiful dancing flame that makes your dining space glow. 
'Another simple lighting addition that will transform your table is a gorgeous set of fairy lights. Fairy lights complement the subtle glow from candlelight perfectly and help create a fabulous, festive feel. Battery-operated fairy lights in particular are ideal for seamless tablescape styling as the battery pack can be cleverly hidden away amongst your decorative display.'
Away from the table, place candle-filled lanterns, pillar candles or tapered candles on shelves or console tables, and hang icicle or fairy lights around wood beams or in your window.
6. Showcase a decorated branches display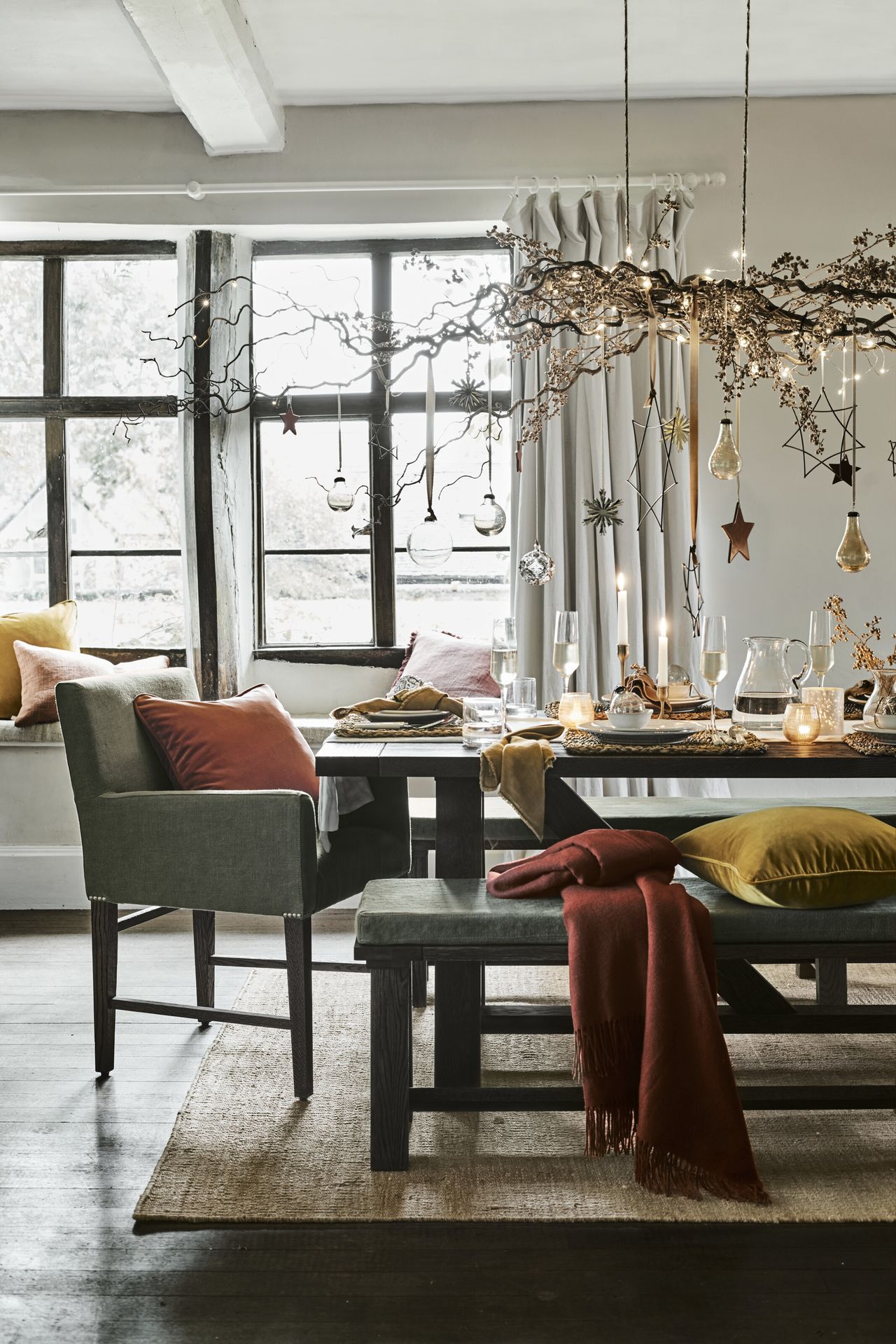 For a dining room idea that's a little different, try hanging decorated branches above your table for extra wow factor.
Wayfair's resident style advisor, Nadia McCowan, suggests this is an on-trend look that will add a  unique Christmas vibe.
She suggests: 'Create a glamorous picture-perfect setting by hanging branches above your table and adorning them with decorations of your choice, for that extra-special statement look. 
'Candles, fairy lights and cozy faux fur throws will further transport your dining experience into a truly magical winter wonderland.'
7. Don't forget walls and windows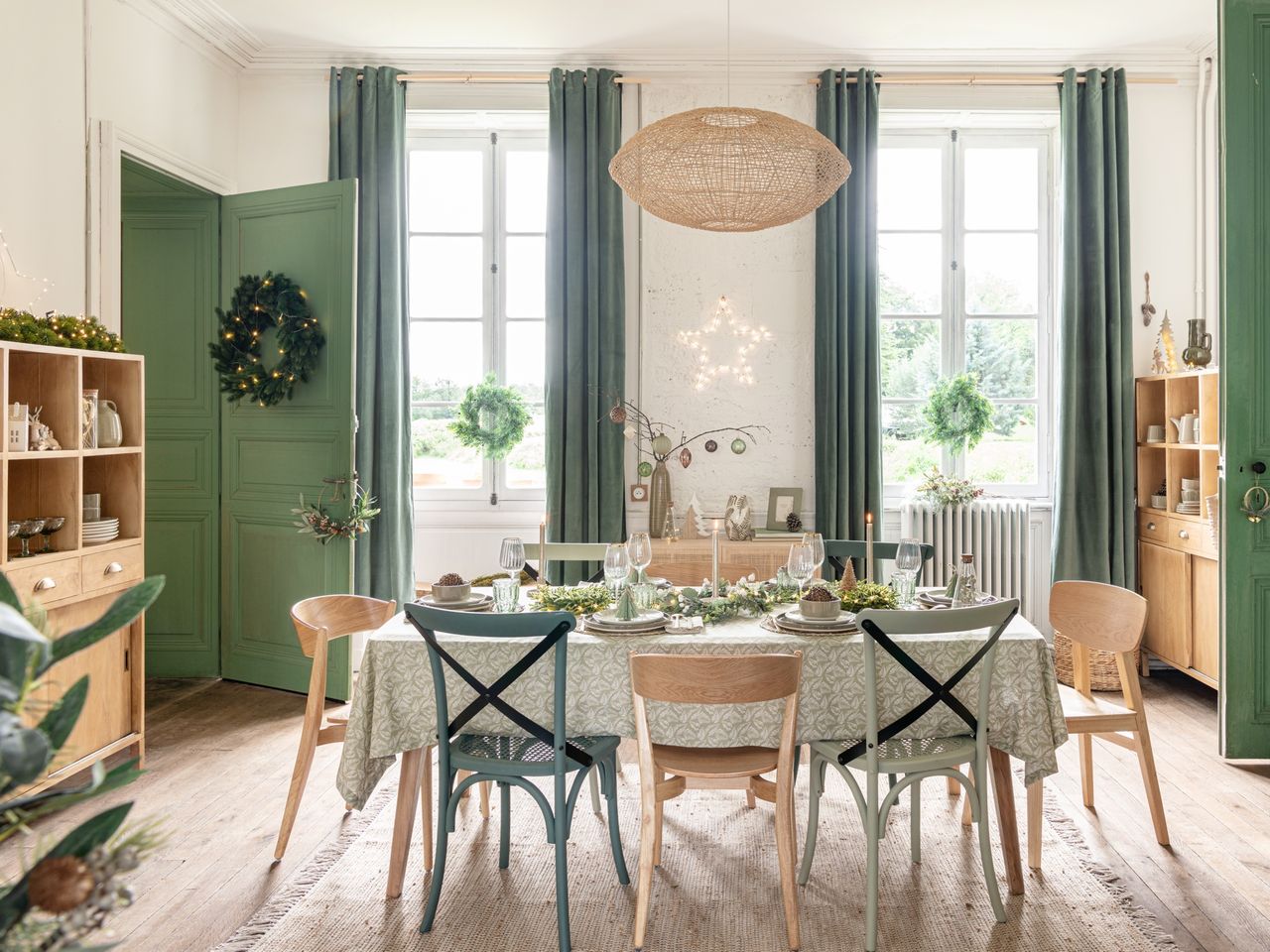 While your Christmas tablescape may be the star of the show, there's plenty of other opportunities for decorating your dining room for the festive season, including Christmas window decor ideas. Wall-mounted decorations are a great way to add some Christmas sparkle too.
Try hanging an LED-lit star and pop a wreath on the windows and doors to complement your table scheme.
Garlands are also an easy addition, try draping them around window frames, fireplaces, and mantelpieces, as well as on top of dressers or on door and photo frames.
Maisons du Monde's interior designer Gerladine Florin says: 'I always recommend warm white bulbs as they're softer and create a more serene atmosphere. Fairy lights, garlands, or eucalyptus garlands can be used to decorate mirrors; run a garland around a mirror or fairy lights to make it look festive.'
8. Ooze a modern rustic feel with earthy tones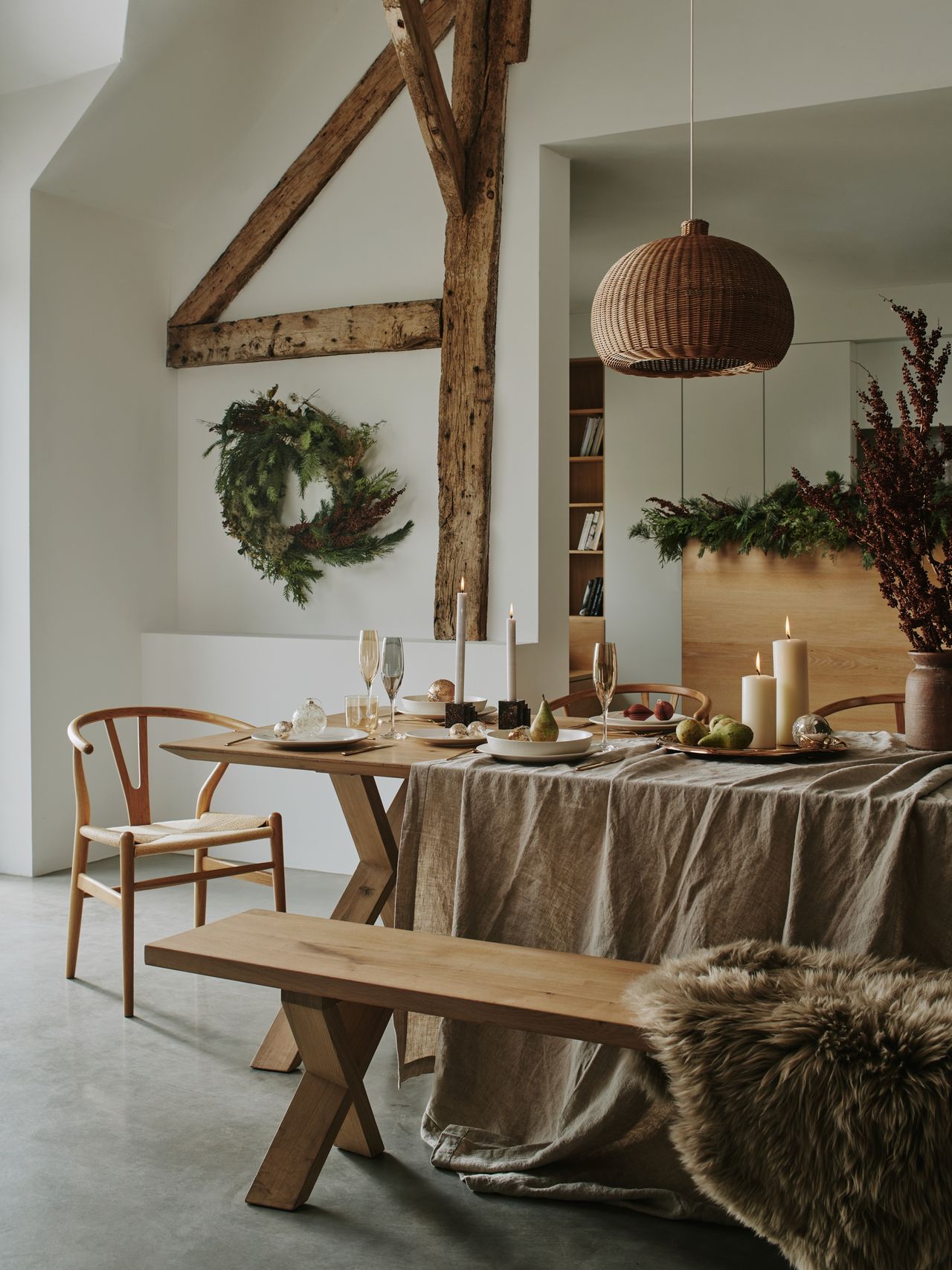 'Opt for natural, earthy tones to create a welcoming and warm backdrop to the celebrations,' says Emily Dunstan, home buyer at Heal's. 'A soft, subtle palette of beige and pale grey offers the perfect canvas to show off your decorations and sophisticated festive scheme.
'Throw a tablecloth across the center of the dining table to add texture and shape, then place a variety of different sized dinner candles to add height and build an ambient festive glow.
'Hang a wreath on the wall and drape a garland across door frames, ledges or even around photo frames for added subtle nods to the festivities.'
Finish with faux fur throws for a snug finish to the scheme.
9. Dress up your console or dresser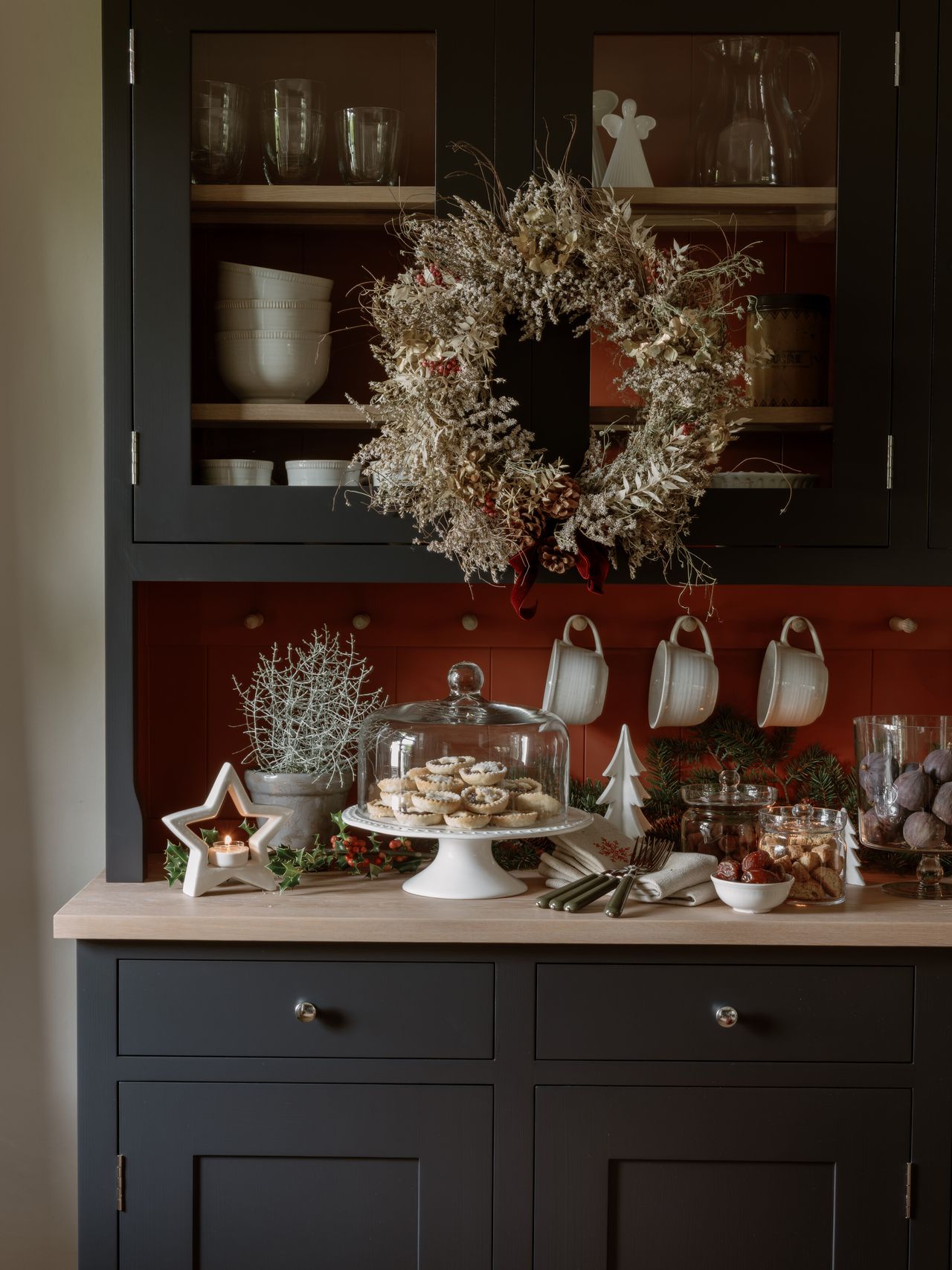 'Sprucing up your dresser is a lovely way to tie the rest of the room together with the focal point of the table,' says Neptune's Ailie Williams. 'It's worth ensuring you'll be able to easily access what's stowed inside over the festive break and aim keep the dresser base clear, as an extra surface is always good to have when entertaining. As a rule, I like to keep it simple. 
'If your dresser has doors, hanging a wreath will give the piece an instant festive update. If it's is open fronted, trailing a garland along the top and down one side asymmetrically (for a more contemporary look) is a great alternative. To go a step further, adding more foliage, along with some festive ornaments on the shelves will ensure your dresser is very well dressed this Christmas.'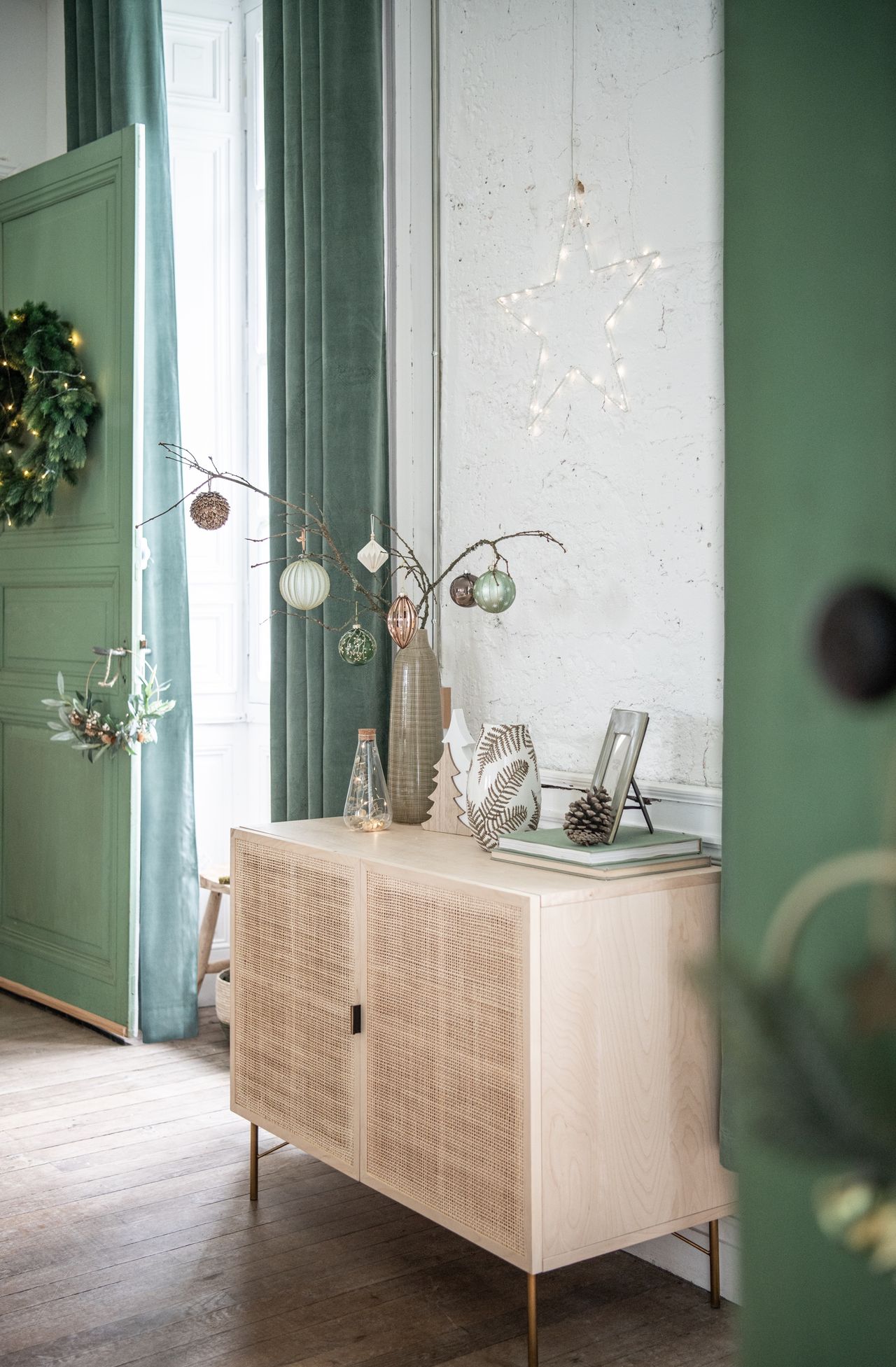 If you don't have enough room for a dresser but do have a console or side table in a small dining room, you can also give that some festive love by placing decorative Christmas ornaments on top, or hanging baubles from winter branches displayed in a vase.
'When decorating the dining room, don't stop at the table,' says Geraldine Florin, interior designer at Maisons du Monde. 'Sideboards and console tables can also be decorated to make the Christmas theme run throughout the room. Run garlands along a sideboard and, for vases, switch fresh flowers for dried blooms or branches for a rustic, natural festive feel.
'You can also fill glass vases with pine cones and add battery-powered fairy lights to bring a little sparkle to the room.'
10. Channel a boho vibe
If your dining room is finished in a boho feel (think oversized seagrass pendants, a patinated wood table, and cane chairs kind of mood à la this beauty from Unique Homestays), it's a lovely idea to keep your Christmas styling in the same scheme.
Geraldine Florin, interior designer at Maisons du Monde, explains how to get the look: 'The boho Christmas trend is very soft and natural compared to more traditional Christmas color schemes, featuring shades of pale green, warm white bulbs, natural materials and touches of gold bring the festive feel.
'Decorate place settings with baubles or Christmas decorations in white, light wood, or pale green tones to continue the theme. Opt for napkins and placemats that are made with natural materials such as organic cotton and jute, then add a touch of gold with gold cutlery or gold-rimmed glasses.  To complete the table, run a garland down the center and add warm white fairy lights, tapered candles or tealights to create a warm glow.'
11. Create a stunning table centerpiece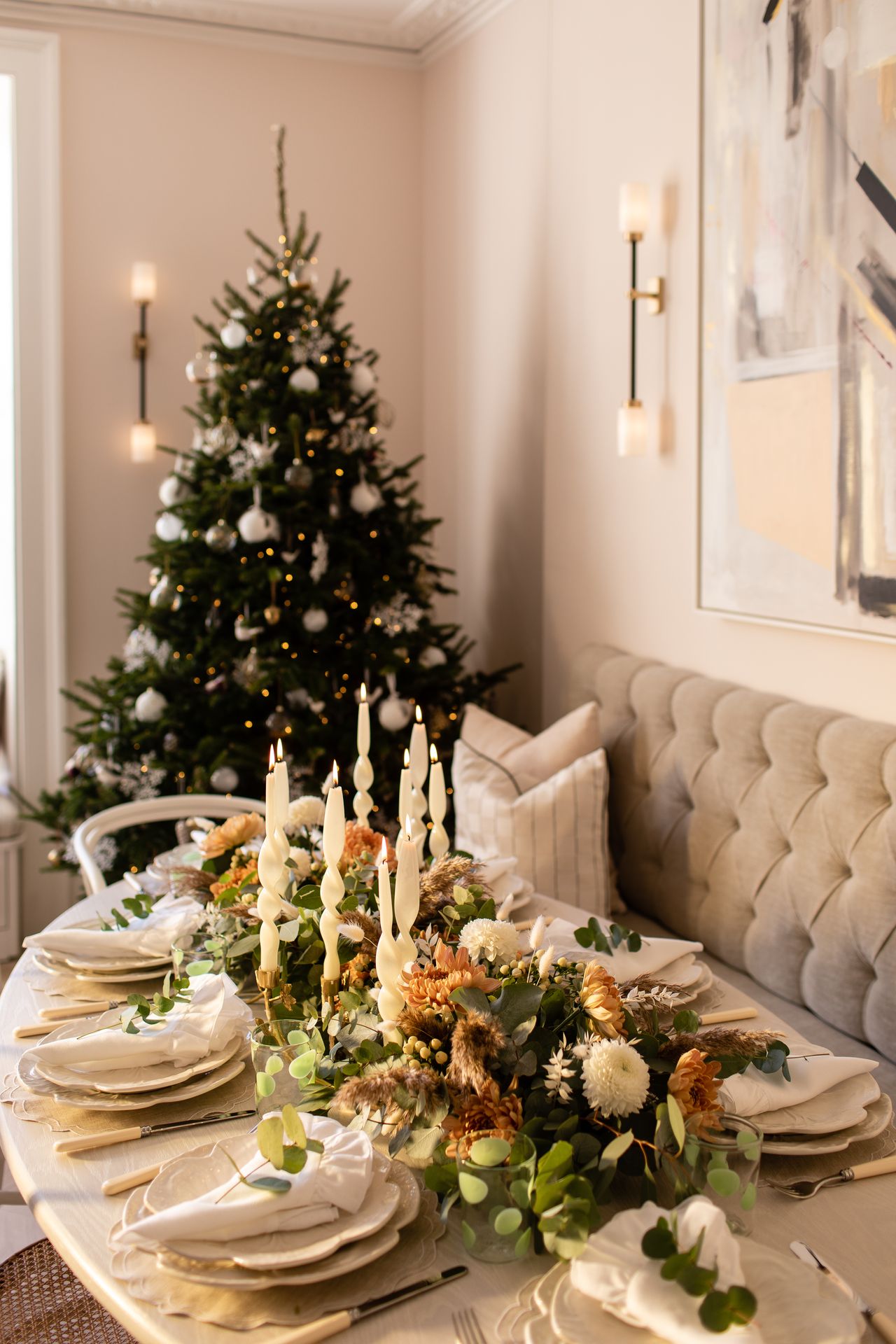 A Christmas table centerpiece can be the star of the show. You can opt for bold and beautiful or keep it natural and elegant, like this chic design by interiors expert Laura Butler-Madden above.
Explaining the aesthetic, she says: 'For tables at Christmas I always use nature as my theme – sometimes dried hydrangeas from the garden, fresh eucalyptus or even flowers that are in season. I don't tend to stick to traditional Christmas colours and I fill the table with candles – ideally lots, and different heights as this creates such a lovely, intimate atmosphere.'
What should you put on a dining table for Christmas?
When it comes to dressing your dining table for Christmas, anything goes. But there are some practicalities and design tips that can help you create a really successful scheme.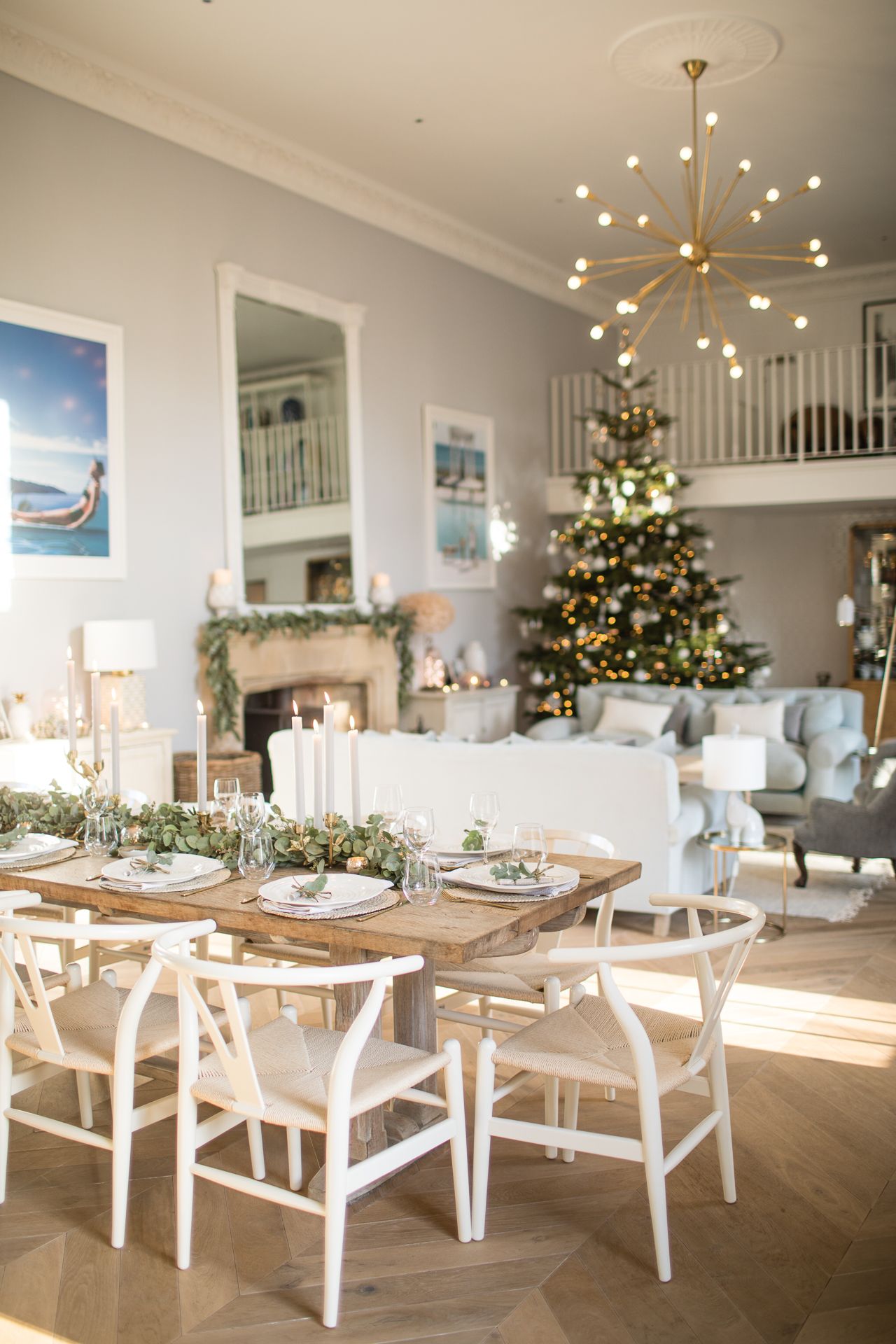 'To create a full and inviting atmosphere in the dining room, you want to include as much as you can on your table without creating a cluttered and busy space,' says Ailie Williams, Stylist at Neptune. 'It's important to allow room for food and placemats when everyone is gathered to eat, so layering table cloths, runners and napkins, with a clustered row of spruce and candles down the center of the table, will create a dressed and festive ambiance, yet still allow for comfortably serving and eating.'
Wayfair's resident style advisor Nadia McCowan says: 'You don't need an overwhelming amount of wine glasses, knives and forks à la Downton Abbey to set the scene of celebration, just a well-appointed mix of glassware, cutlery, crockery and table linen to suit the dining experience to come.
'A cotton or linen napkin rolled into a napkin ring and styled with a stem of thistle, mistletoe or eucalyptus makes for an elegant finish. 
'To keep your festive table from looking too chaotic, style with a staggered variation of pieces in different heights and proportions, from cake stands and vases, and single candle holders to candelabras. This will help the look to feel layered and easy on the eye.'
And interior designer Kit Kemp says: 'An elegantly dressed table is the best way to make a meal feel special.
'Consider the color scheme. Just like an interior, it can create a dramatic look if the colors of the decoration work in harmony.
'Small flower arrangements in jam jars or small vases are best so you can arrange them around the other items you want to place on the table. Avoid high arrangements so guests can see over them. Using bright seasonal flowers always adds a 'wow' factor. Use foliage and fresh fruit to add a dramatic or festive look.'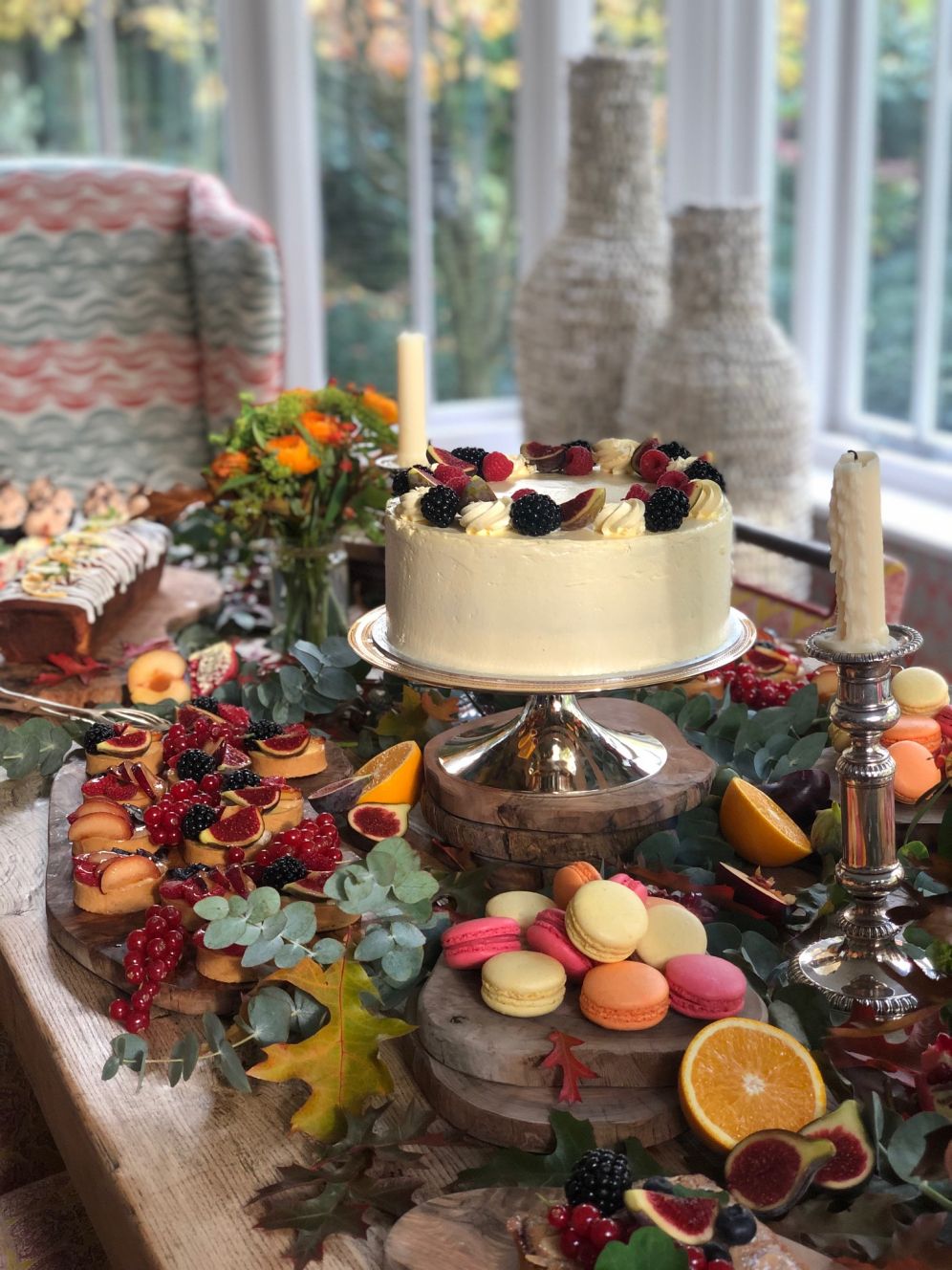 Kit continues: 'We love to use pomegranates, oranges and red currants. They're an inexpensive way to add decoration and you can eat them after. Dried fruits such as limes and cinnamon also add a festive touch and smell beautiful.
'Candles are really important, regardless of whether there is day light or not – hurricane lamps work well in the day time, whilst candelabra and church candles add a dramatic and romantic touch. We generally prefer a random placement on tables as it looks more natural and less stiff, whilst also giving a 'wow' factor.
'When decorating a display table, using height can make an impact. We like to use a variety of handmade wooden chopping boards and we often sit cake stands on top of wooden logs to add a rustic look.'