Trees with white bark are a beautiful addition to the garden at any time of year, however, it is in winter when they truly come alive. Set against the barren garden, the white bark becomes almost translucent, radiating a glow that will brighten every plot. 
Standing in stark contrast to the greens and browns that define the garden's color palette, trees with white bark particularly pop when paired with plants with red and orange leaves and stems. So, whether you plant one statement tree or incorporate several into your backyard ideas, you will fall in love with the interesting colors and textures that they bring.
'Trees with white bark are less common than trees with dark bark, but they can be a stunning addition to a yard or landscape. When you scan a treeline, white bark trees always grab your attention,' says Shelby DeVore, the founder of Farminence.
Trees with white bark
With so many different options from which to choose, selecting the right trees with white bark for your garden can seem like a daunting prospect. 
Before choosing a tree, pick the spot or spots where you want to grow trees with white bark. The location and conditions of the site will influence which tree will grow best in your plot. If you are looking for trees for privacy and screening, then also factor in how many trees are required, the distance needed between them, and where they need to be placed to offer privacy.
Having chosen your spot, then you can choose your tree. Be sure to take into account your gardens soil type and the growing zone in which you live when researching trees with white bark.
Once you've picked your tree and it's arrived at your home, you need to plant it. To do this, it is vital that you know how to plant a tree as this will give your new garden addition the greatest chance of success. 
'Plant trees with white bark in front of evergreens to show off their statement bark. Grow white flowered shrubs, perennials and annuals to echo the bark – repeating the color from one plant or item to another helps provide balance and unity in the landscape,' advises arborist Melinda Myers.
1. Snakebark Maple (Acer tegmentosum 'White Tigress')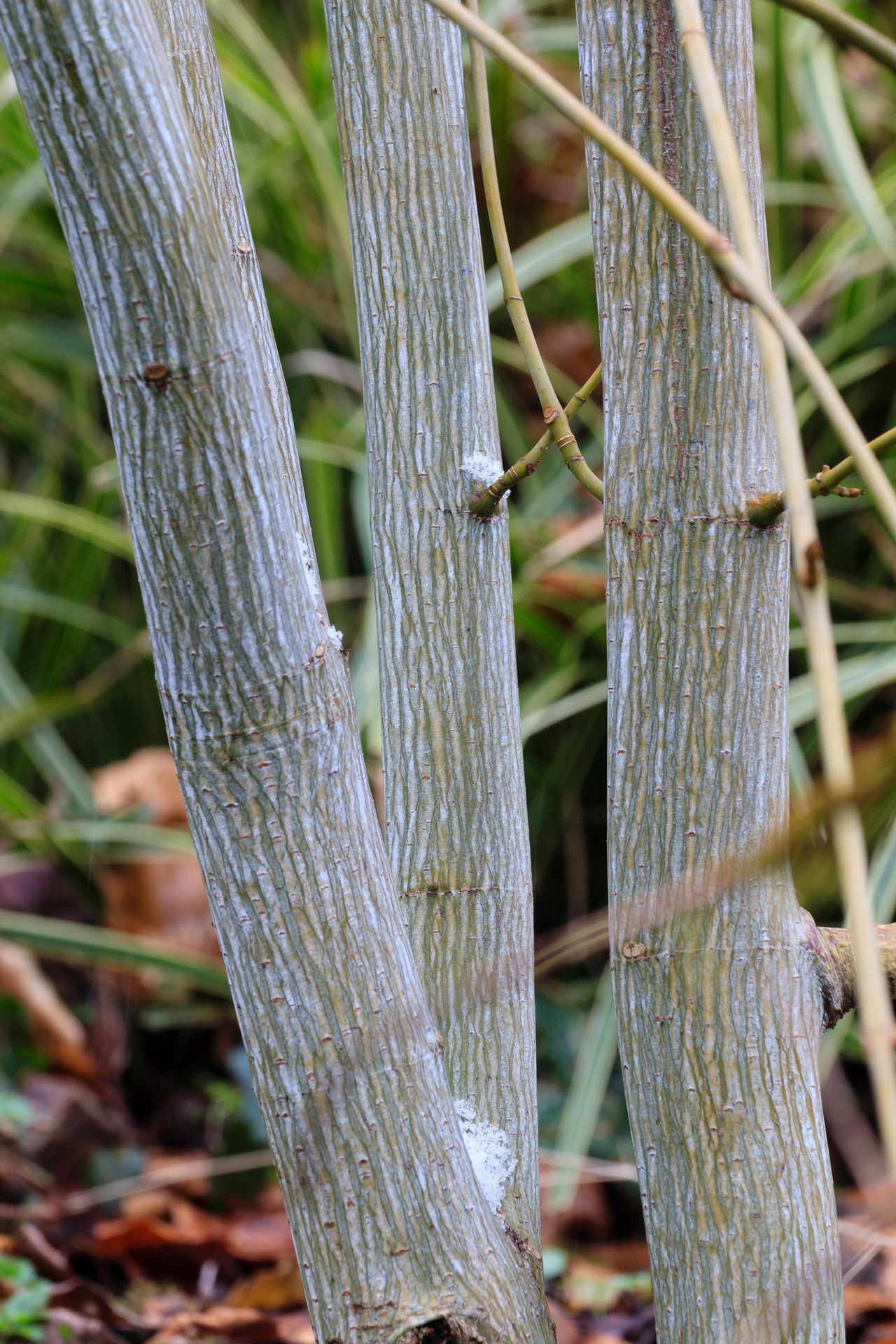 If you're looking for striking trees with white bark then Snake Bark maple trees are a must have addition that brings both color and texture to your garden.
A variety of acer, these Japanese maple trees are characterised by the veining that runs the length of their trunks. There are several different varieties including Acer tegmentosum 'White Tigress' and Acer davidii 'Viper', both of which are characterised by green and silvery-white striated bark.
Another benefit of these pretty trees are that they are one of the easiest trees with white bark to grow, so long as they are planted in a sheltered spot with partial shade.
2. Weeping cherry tree (Prunus pendula)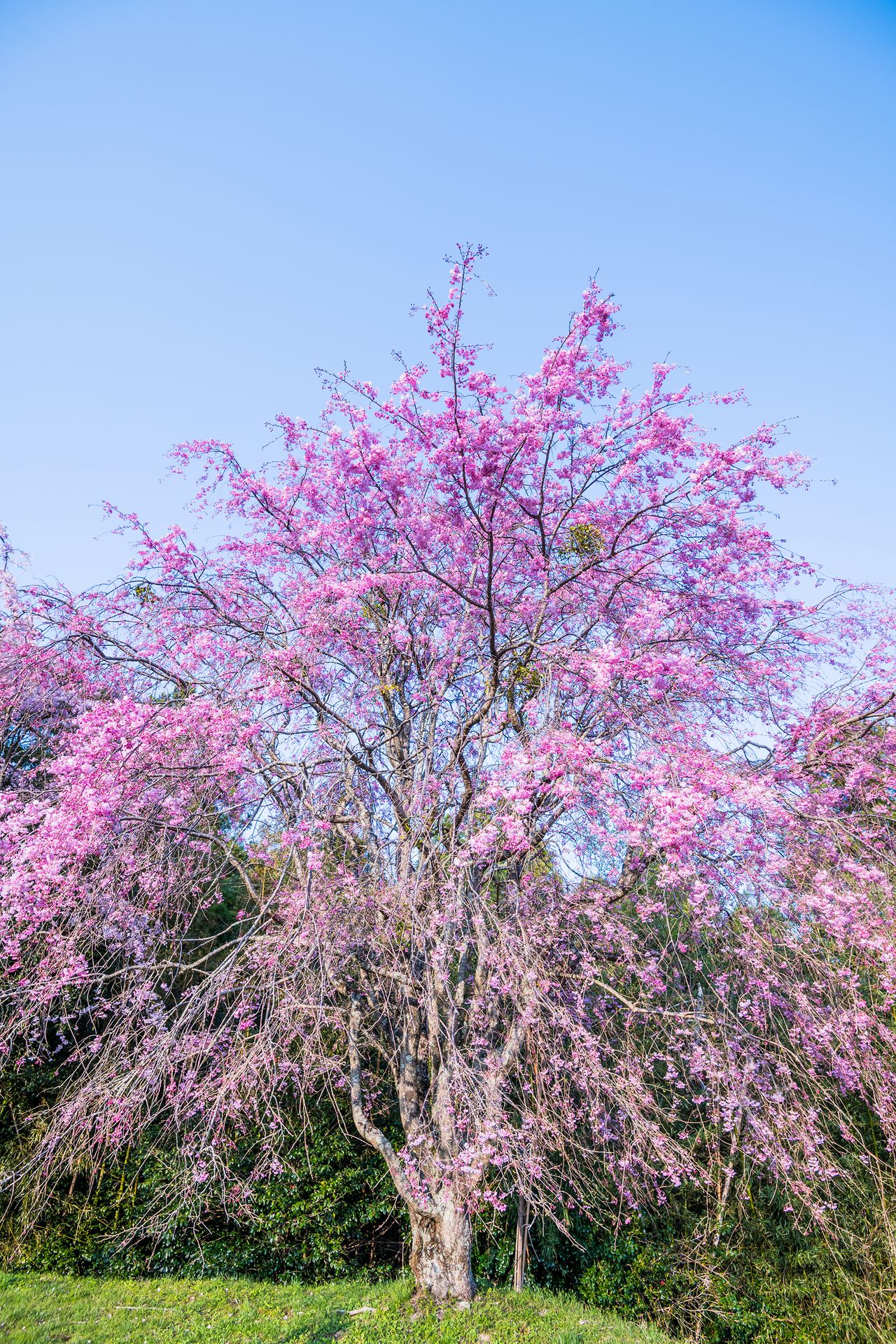 There is never a time of year when the weeping cherry is not putting on a show. In spring, it hosts a profusion of pink blossoms, in summer its dark green leaves shine in the sunlight and throughout fall and winter, its captivating white bark offers a centerpiece to a winter garden.
Easy to care for 'its drooping branches do not require pruning and will grow up to 25 feet high and 12 feet wide,' says Lindsey Hyland, gardening expert and founder of Urban Organic Yield. As well as it's pretty white bark, the weeping cherry is also one of our favorite trees with red berries, producing a fruit that is great for feeding birds in winter.
3. Japanese White Birch (Betula platyphylla var. japonica)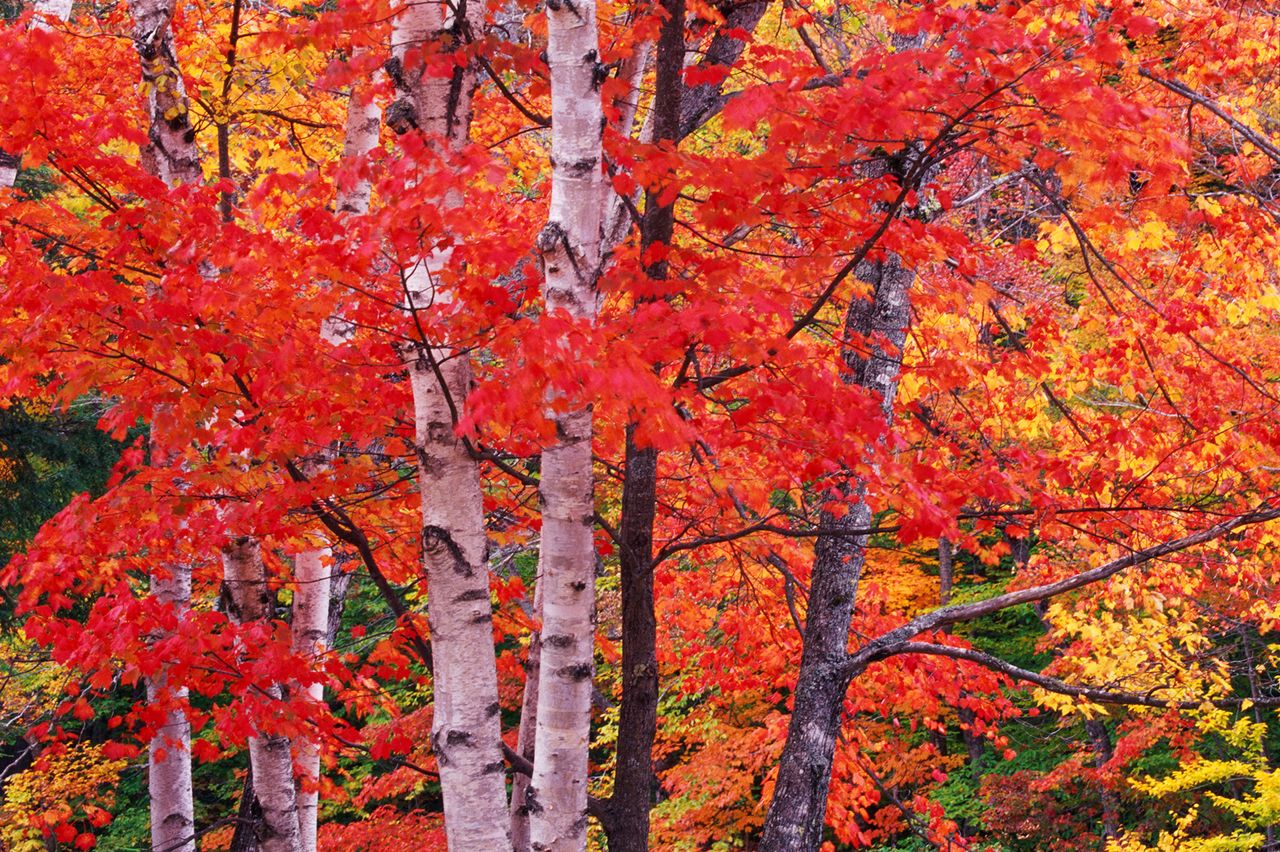 Birch trees are the most iconic trees with white bark, and while we all instantly think of the Silver Birch or the Paper Bark birch, there are actually numerous different varieties all offering their own unique colors and textures. One such tree is the Japanese White Birch.
As its name suggests, the Japanese White birch is native to Japan and is surprisingly hardy, thriving in growing zones 3 to 8. It will do best in well-drained soil in a spot that receives full-sun and a little shade in the afternoon and in ideal conditions it can reach up to 50 feet tall. 
When growing trees with white bark, also think about the plants with which you are surrounding your tree. Trees with white bark always pop against red, so why not set your birch tree against red maple trees or surround them with fiery red cornus for an eye-catching display that will ignite your winter garden ideas.
4. Ghost gum (Corymbia aparrerinja)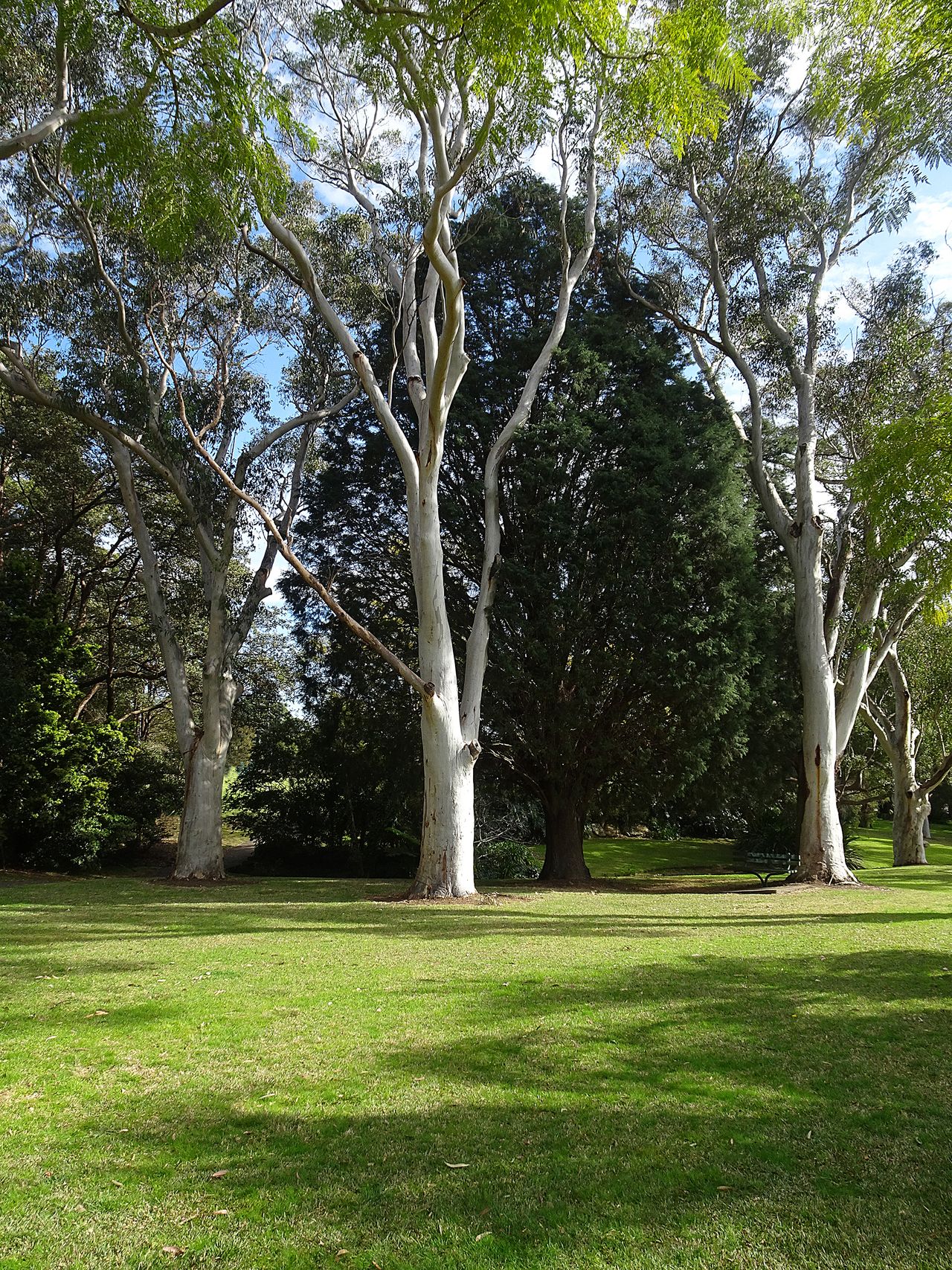 If you live in warmer climes, namely zones 9 and 10, then the Ghost gum is a great choice. 'It's a very tough and hardy plant that's well-suited to coastal areas. It's resistant to drought, pests, diseases, and other issues that can be detrimental to less hardy landscaping trees,' says Shelby DeVore.
Native to Australia, the Ghost gum gets its name from its striking white trunk which gives the tree an almost ghostly appearance. However, its white bark isn't the only thing that makes this tree a characterful addition to the garden. 
Offering year round interest its one of the best evergreen trees for gardens as 'when the tree is hit with frost, its deep green, waxy leaves turn a deep purple,' continues Shelby, 'the tree also blooms late in the fall, when most other plants are settling in for the winter.'
5. Aspen (Populus tremula)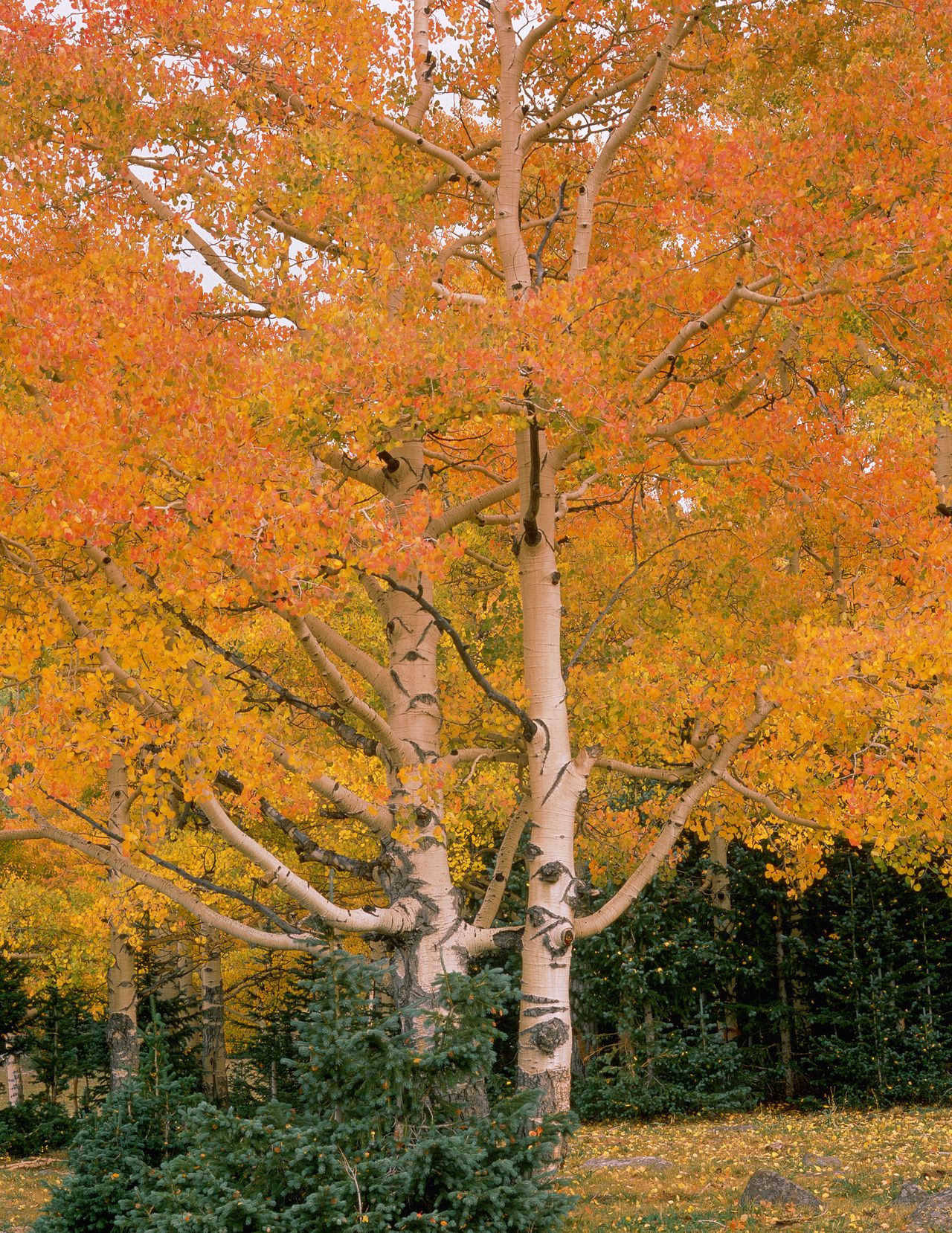 The American aspen is known by many names including the quaking aspen or trembling aspen. Regardless of what you call it, everyone can agree that this tree is a beautiful addition to the backyard. 
However, it is in fall that these trees with white bark really earn their place in the garden landscape. As the weather starts to turn, their green leaves ignite in a flurry of yellow and orange, providing a stark contrast to the white bark below. It is this stunning display that makes them one of the best trees for autumn color.
However, the American aspen's beauty comes at a price as this tree requires very specific conditions in order to thrive. 'It grows best at high elevations (over 2,000 feet), and can't tolerate summer temperatures over 85 degrees. It's a great option for people living in mountain terrain looking for a special tree to add to the landscape,' says Shelby DeVore 'Their tall, narrow shape won't provide much shade but lining them up and creating a border or treeline is very appealing. In ideal conditions, these trees are fast-growing and can grow up to four feet each year.'
6. River Birch (Betula nigra)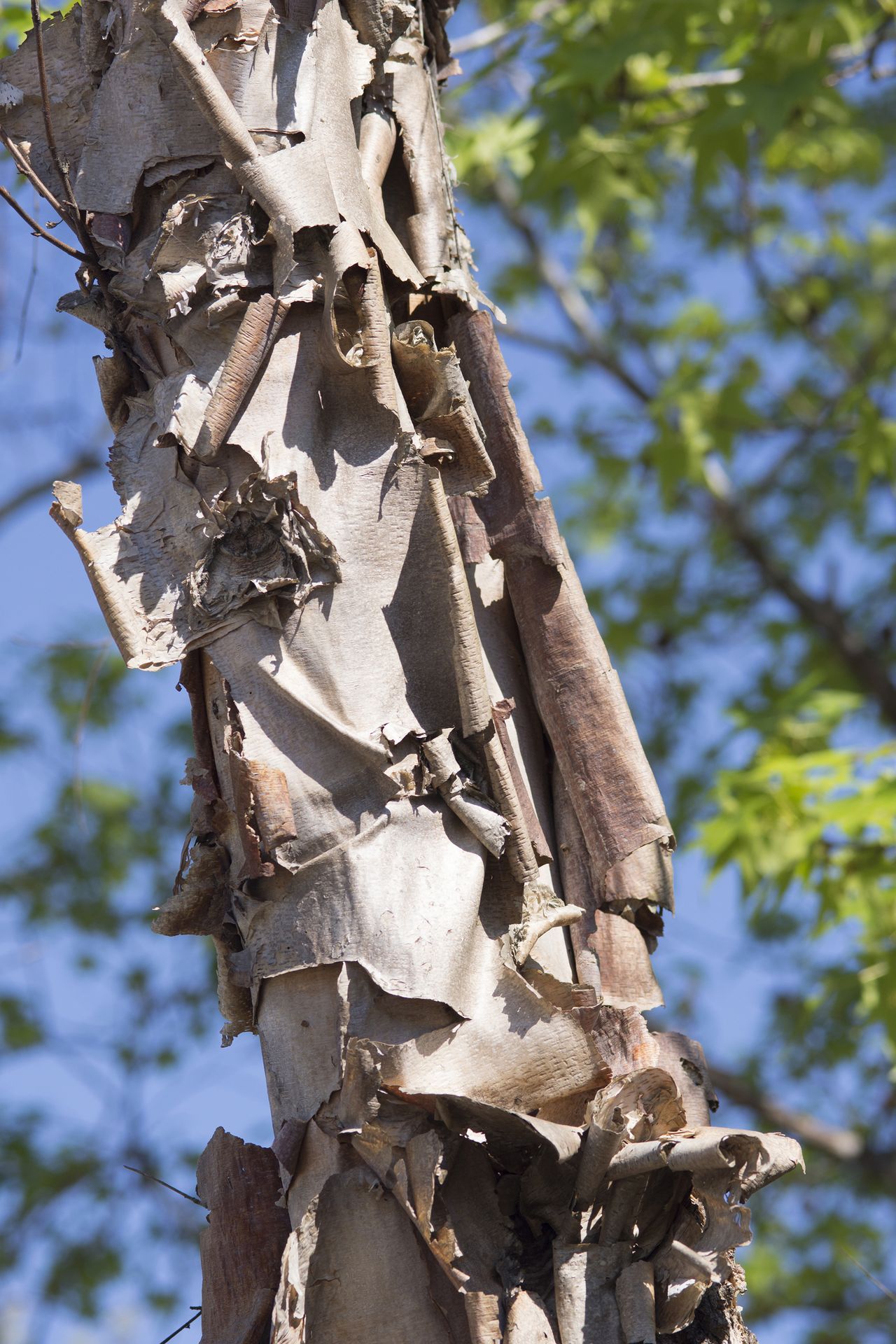 A unique tree in the garden, the River Birch offers a fascinating combination of texture and color. 'With its showy cinnamon colored bark that peels off to reveal shades of creamy white and beige, it's not hard to see why birch trees are loved by home gardeners,' says Nikki McAteer from Perfect Plants Nursery.
As an American native, the River Birch is a great addition to the garden and one that supports wildlife and natural ecosystems, offering a place for nesting birds and insects alike. Its fast growth rate makes it one of the best trees for privacy and screening in a backyard, too. 
7. Sycamore (Platanus occidentalis)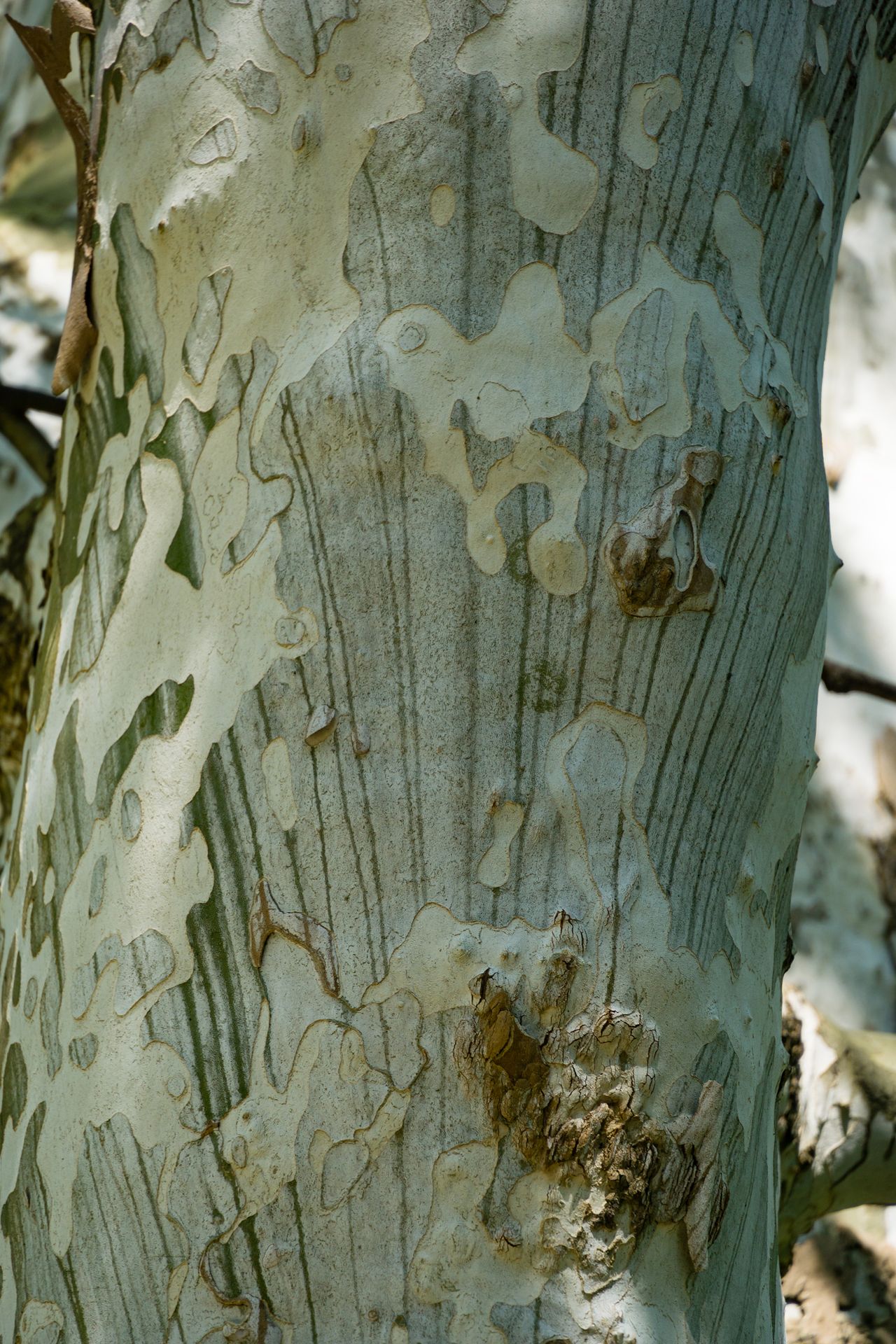 Not all trees with white bark have the same snowy complexion as the birches and aspen. The white bark of the sycamore is uniquely patterned, offering a camouflage mix of whites and greens that bring instant character to the garden. 
'An American native, the Sycamore's upper branches will turn very light green, almost white as the tree grows,' says Blythe Yost, CEO of the online landscape design company Tilly, 'Sycamores like wet soils and can be found often on river banks'.
8. Himalayan Birch (Betula utilis jacquemontii)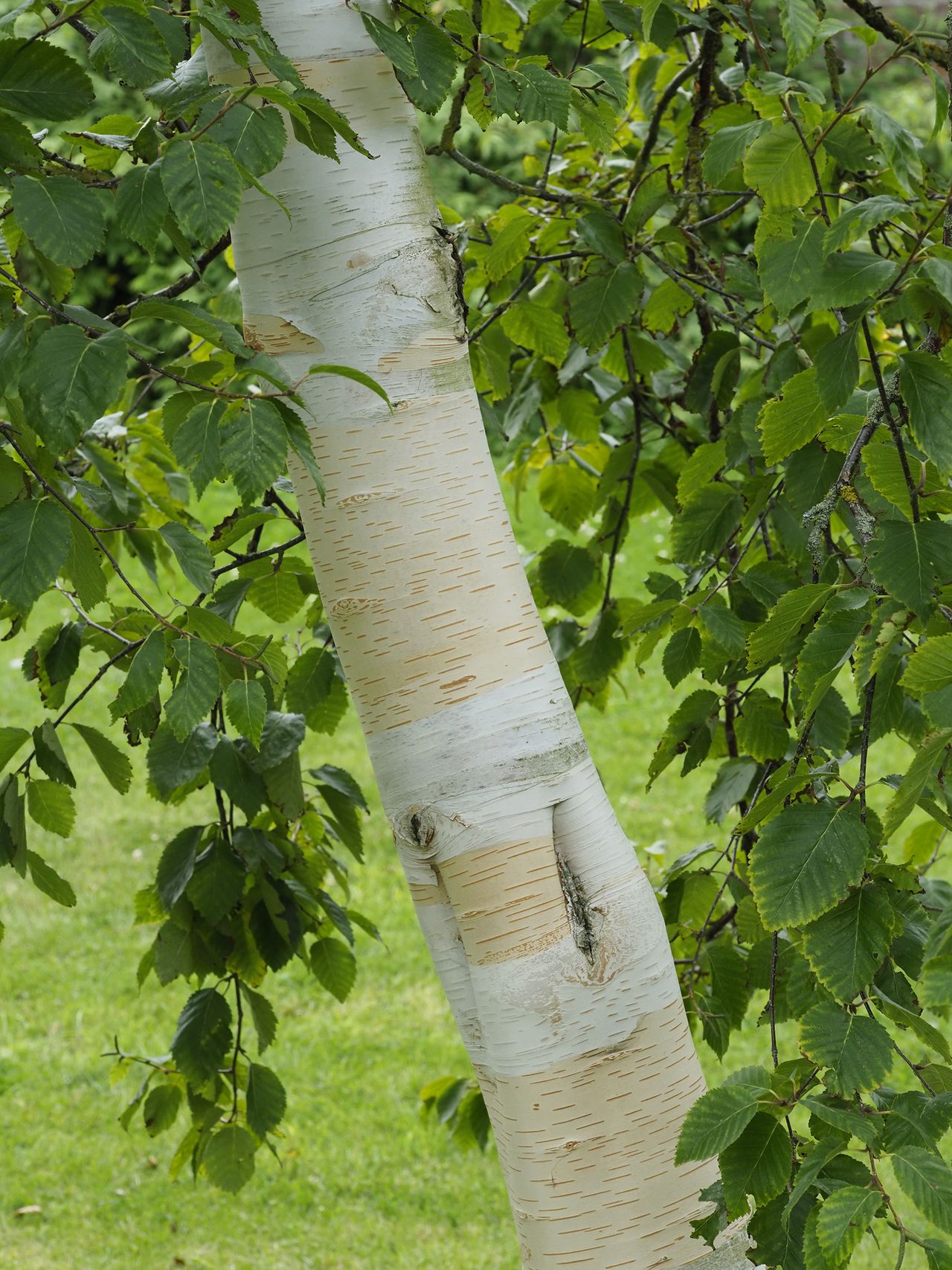 If you're looking for the birch trees with the whitest bark, then the Himalayan birch is the tree for you. As its name suggests it is native to the Himalayas and its snowy white bark peels back each year to reveal the new layer below. While this new bark starts off yellowy, it ages to become a show-stopping white color.
9. Silver Birch (Betula pendula)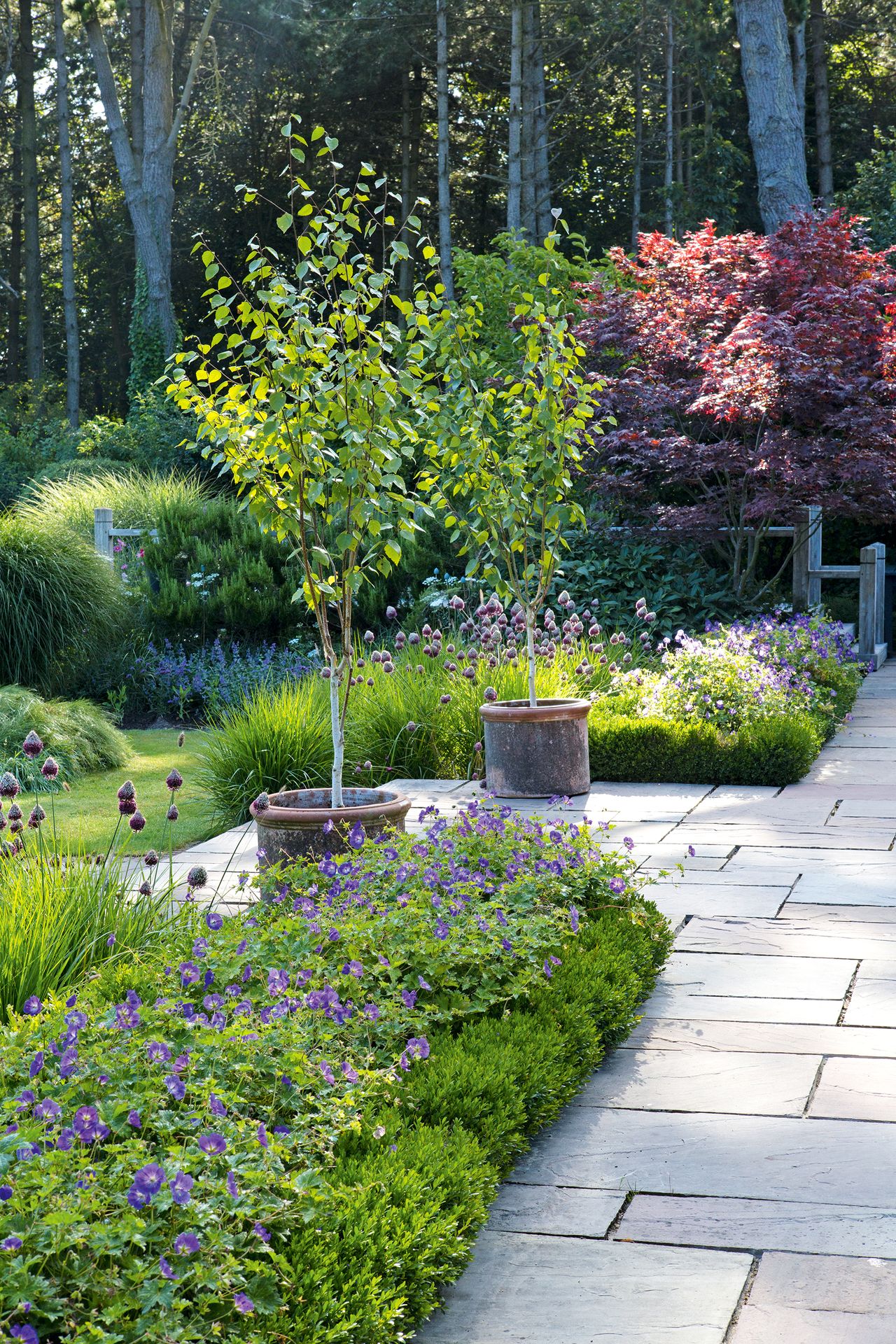 If you're looking for the most versatile of the trees with white bark, then the silver birch tree is your best option. 
'A great choice for both large and small gardens, silver birch trees are tolerant of most conditions and does best in a moist soil,' says Period Living's garden expert Leigh Clapp. When young, the trees bark appears redder, slowly peeling off and changing to the classic white as the tree matures.
Silver birch trees are also some of the best trees to grow in pots as the container stunts the trees growth, resulting in a perfectly formed yet smaller variety. These are perfect for adding shade and screening to a patio. However, if growing a silver birches in pots, then it is important to keep them well watered as they are very thirsty plants.
10. Paper Bark Birch (Betula papyrifera)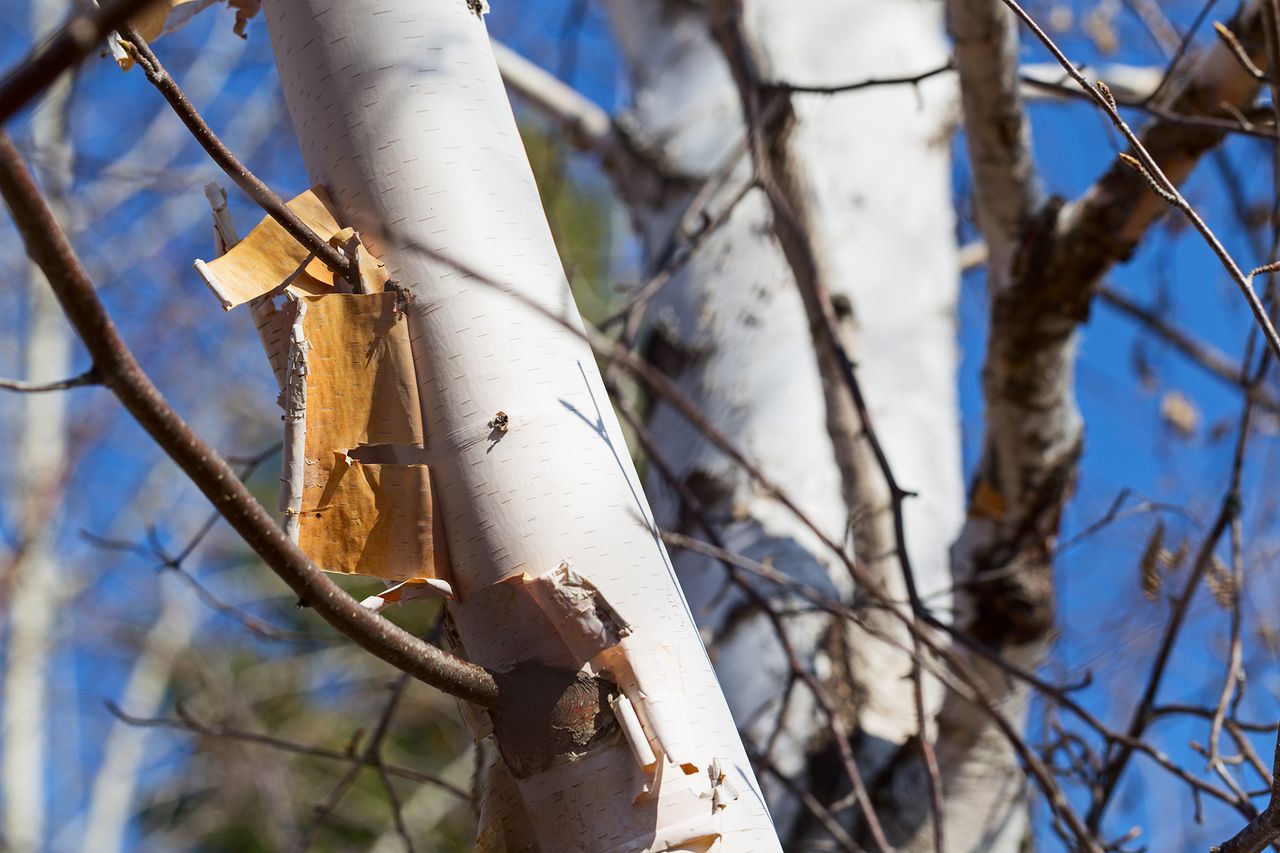 A native tree, the paper birch is a popular choice for homeowners looking for trees with white bark to add to their garden. Growing moderately fast (up to 2 feet per year) and reaching 70 feet at maturity, it is a great choice if you are looking for best trees for privacy and screening. 
'This tree is also brilliant for gardeners who are interested in encouraging wildlife into the gardens as the paper birch will provide food and habitat for numerous species of birds, moose, white-tailed deer, and small mammals,' says Shelby.
Why are some trees white?
Some trees are white because they have naturally white bark. The white color helps to protect the tree against damage from the sun by reflecting the light rather than absorbing it and its heat. 
However, some trees are white because they have been painted white. Far from being an aesthetic choice, painting trees white is actually very beneficial to the tree for much the same reason that trees have naturally white bark. The white paint helps to reflect the sunlight and heat and thus keep the tree cooler and reduce the effects of sun damage.
Painting trees is a particularly popular practice in areas with high temperatures and high UV-indices. If you are painting your trees, it is important to use a white latex rather than oil-based paint, as an oil-based paint will cause more harm than good. 
What trees have white bark?
The weeping cherry tree, Japanese white birch, gum trees, Himalayan birch, Paper Bark birch and Aspen are all trees that have white bark. All of these trees have the classic white trunk that appears to glow in the sunlight and catches the eye on a frosty morning.
Another tree with white bark is the silver poplar, which is also called the white poplar. 'Frequently used in landscaping, white poplars are not a good choice for the garden,' says Shelby DeVore. 'They are an invasive species and in numerous states.  In fact, it's illegal to possess or own them. Silver poplars are notorious for spreading and creating invasive colonies.  The aggressive way that they reproduce and their fast growth rate means that they often out-compete native trees and become a nuisance plant.' Therefore, it is best to avoid planting silver or white poplar trees in your garden.